We seem to review a lot of security cameras. They are a good thing to have when you are wanting to protect your property. The camera we're about to review today is currently an Indiegogo project. That means it's not available in stores right now, but here's an overview of this decent wireless security camera with app.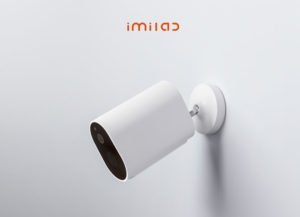 Xiaomi is a Chinese company that has produced a lot of great tech and gadget products. We've reviewed several of them- including a dash cam. The IMILAB EC2 camera is a product that they produce, but it has been turned into an Indiegogo project. It has exceeded its goal, and product will start to be shipped soon. We don't know when it will start being sold in stores.
What's in the box?
Supporters who backed the project can expect to receive this wireless camera with easy mounting system, and no subscription to a monitoring service or storage fee. A basic package comes with a single camera and mount and the gateway that can support up to four cameras. Did I mention it's easy to mount? You can choose to use the adhesive or screws, and there is no cable or wires to mess with. It's ready to go with the free downloadable app. There's also a charger included, which you likely will only have to use every four months.
The IMILAB EC2 App
The app works to receive notification of human movement. Yes, you can prevent it from notifying you when your dog is out in your yard and wants to be let in. The app also allows you to communicate with others that the camera picks up. You can communicate with the delivery man on where to leave your package, and you can do this from anywhere- at home, work, or vacation.  Video can be uploaded to the Cloud free of charge.
The IMILAB EC2 Camera
Of course, we have the most important part of the package to cover still, and that's the camera. Mounted on any flat surface, it has a ball and joint system that will allow you to easily adjust the viewpoint, which has a 120° ultra-wide-angle lens and clear capturing at 1080p. This camera also has excellent night vision, and an infrared thermal sensing technology that differentiates living people from trees and sheets blowing in the wind. The camera is also waterproof, and good for indoor or outdoor use.
The Final Analysis
With all the things this system can do, I was surprised to see the price is only $99 for the basic set. If you need more than one camera, you can get a good deal on those as well. In comparison to other monitoring systems we have reviewed, I believe this is a fantastic value. As of this writing, there is still a way to get these Indiegogo deals, but I do not know when they will start showing up in the stores. The backer packages are in production now, and are due to ship out this month.
We received a model for the purpose of our review for free, but we are not sponsored in anyway by Xiaomi. Our review is fair and unbiased.