Here's another post on some JBL products. Everyone knows JBL as a company who makes some great listening devices for their tunes. We have a couple of those items to review today.
JBL Endurance Run In-Ear Headphones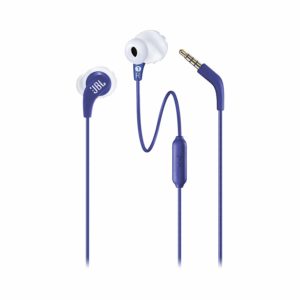 Some people have not joined the wireless earbud era yet. For those who still prefer to be hooked up to their phones, these in-ear headphones will work well and cost is very reasonable for these.
Available in black, dark blue, light blue, red, or black and neon yellow, these sweatproof , magnetic earbuds include a wireless mic for taking calls. The JBL buds are designed with their TwistLock technology to hold them securely in your ears. There is also the FlipHook design where you can wear the wire up and over your ear, or hanging straight down.
However you wear them, you'll definitely be pleased with the sound. At a $19.95 price tag, you might not expect much, but you should be pleasantly surprised with the bass depth and clarity.
The JBL Go2 Portable Bluetooth Speaker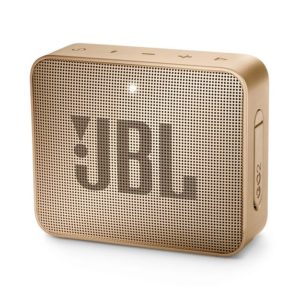 If you want something that produces good sound that you can carry in the palm of your hand, the Go2 portable speaker might be up your alley. It comes in 12 different colors, so you can look good while you listen to your tunes.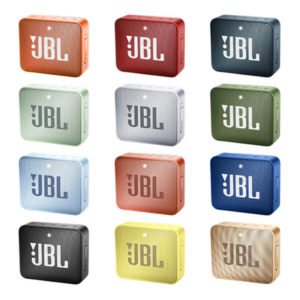 Not only does it come in some great colors, it's also waterproof! You can take this IPX7 to the beach or pool with no worries. It has 5 hours of play time, and that little white indicator light you see in the photo will turn red when the battery is low. Hidden under a flap on the side is the micro USB charging port(charging cord included) and an audio cable input in case Bluetooth isn't available. The top has controls for volume, power and play/pause or advancing tracks.
At $39.95, this little portable 2.8 x 3.38 x 1.24 inch speaker has decent sound, but not the most impressive. It's lightweight at .41 lbs, so you can carry it around with you. Would have been nice to have a carrying strap, though. It's an improvement on the JBL Go in sound and design- especially with speakerphone capabilities.
Thanks to JBL for allowing us to have these review models in exchange for our fair and unbiased analysis. No other compensation was given.