Krusell is a Swedish company, and we've done reviews of their phone cases in the past. This time we'll not only be reviewing phone cases, but also an iPods case and a wireless charging pad, as well. Without further ado, we'll start with
Sunne Wireless Charger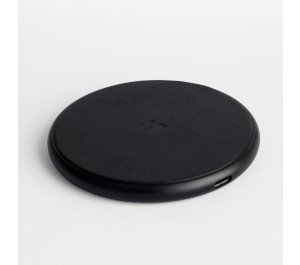 This little wireless charging pad is a simple round disc that uses an included 1m USB-C cord to charge.  It's simple, but elegant with its premium full-grain leather in black or tan. It has the capability to charge quickly(10W). The cost is 59.90 Euros or $65.36 in American dollars.
Krusell Sunne AirPods Case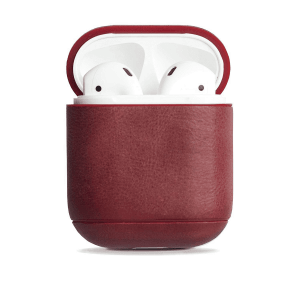 This handsome case comes in this crimson color, and also a gray. It is also made of premium leather and will provide extra protection to the case your AirPods or AirPods 2 came in. There's a cutout on the bottom that allows for easy access to the lightning cable charging port. The case is also slim enough to allow for easy wireless charging. 29.90 in Euros or $32.63 will buy this case on the Krusell website.
Sunne CardCover iPhone 11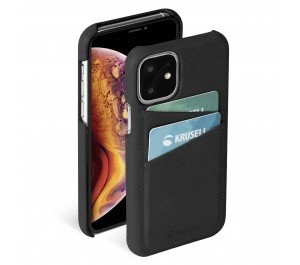 If you need a case for your iPhone 11 that also holds cards, this handmade-crafted leather one with cuts outs for camera, buttons and ports will give some added protection to your phone while holding a few cards on the back. It wraps around to protect the screen if you have the phone face down, but still allows for good access. It comes in black, gray or gold for 34.90 Euro or $38.08 USD.
Sandby Cover iPhone 11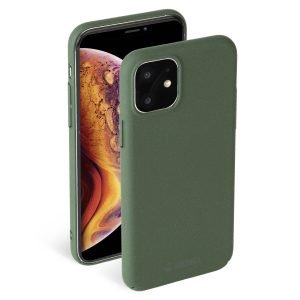 This cover gets its name from the texture of sandstone that it resembles. It is said to be inspired by the Swedish coastline and their rocky islands. It's lightweight, and has open access to buttons and ports. We received the iPhone 11 case for this one, but others are available as well. This costs 14.90 EUR(a current markdown) and $16.25 USD, and comes in green, gray, and pink.
Birka Cover for iPhone 11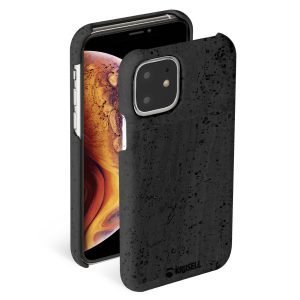 This case is pretty unique looking. It's made from a light Ecofriendly natural cork from Portugal. We have cork floors, and it's fortunate that they have their own natural padding. This case, I suppose would have the same kind of padding and protection for your iPhone. This one comes in black, brown, and orange. I'll let everyone know now that all the cases have lifetime warranties. This case retails for 29.90 EUR or $32.63 USD.
All these products were sent to us for free to review. We are not sponsored by Krusell, and do not receive any other monetary compensation for our fair and unbiased analysis.