It seems to be a while since we've reviewed Logitech products, but good news, we get to do a review of a couple products today. One is a remote to work with slideshows and presentations. The other is a wireless charging station.
First up, we have
Logitech Spotlight Presentation Remote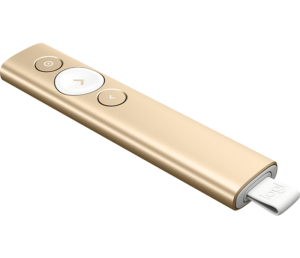 This little gadget works with a companion app that can be downloaded either for Windows 7 through 10 or MacOS. Combined with the app and the device, you can
Set time alerts to manage your time and receive vibration alerts in your hand
Toggle pointer mode to highlight, magnify or act as a digital laser pointer
Customize actions on the back and next button to blank the screen, or to activate gesture
Commanded volume control, scrolling, and more
Keep your computer awake while you present
Get on-screen notifications when your device's battery runs low
You can use plug and play with USB receiver or low energy Bluetooth®, and it has a range of about 100ft(depending on environment and computer). The great thing is that you can use this device with all kinds of presentation platforms like Powerpoint®, Keynote®, PDF™, Google™ Slide and Prezi™. If you like this gadget, you could purchase it for $129.99 on the Logitech site. It comes in Silver, Red, Gold or Slate colors.
Logitech's POWERED for iPhones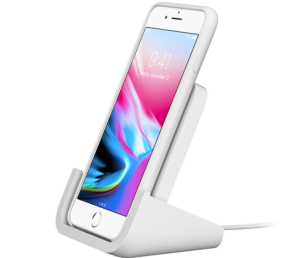 Well, it says it's for iPhones, but really, any Qi capable phone will work on this wireless charging dock. The difference would be in the output-  up to 7.5W for the iPhone and 5W for other Qi-compatible smartphones.
You can leave your case up to 3mm thick on while charging your phone on this dock, however the iPhone 8+ phones need to have cases with an open bottom.
Phones can be placed horizontally or vertically on this base with a 65 degree angle, so you can have easy access for things like face recognition.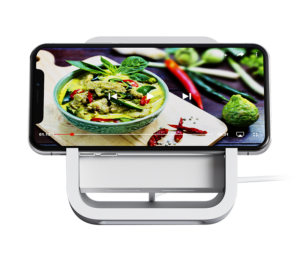 The dimensions of this charging base-
All-in-all, a pretty good device from Logitech that comes with a price tag of $69.99.
Disclaimer-Logitech provided us with these products for free to review. No other compensation has been given for our fair and unbiased review.