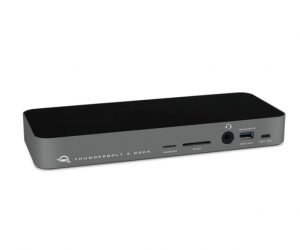 It would appear that OWC has truly made a lot of great products, like Mercury Elite Pro Dock. I am guessing that the vision of this company is to make a computer more than it is already, because this is what the Thunderbolt 3 Dock is for.
From out of the box (and you will see that in the video below, once it gets here), it comes with a cord and that brick power supply thing. Once you got it plugged in to your Thunderbolt 3 equipped Windows or Mac (and it's got to be Thunderbolt 3 type), you have 85W of power and access to all kinds of ports.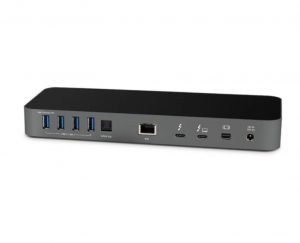 So what kind of ports are we talking about? All kinds of ports, like fourteen. We are looking at an analog audio in/out, dual Thunderbolt 3 ports, Gigabit Ethernet connection, micro SD Card reader, mini display port, optical audio out, SD card reader, then a USB 3.1 Gen 1, and a USB 3.1 Gen 2 Type-C.
What is interesting is how the OWC Thunderbolt 3 Dock works to connect two 4K displays or just one 5K display. What is even more interesting is how you can just set a display right on top on this thing, or at least that is what the picture says.
Another cool thing is how it can daisy-chain up to five additional Thunderbolt devices, and then use those front SD and microSD card slots as well. I really can't believe all the USB ports that you have to work with here. And then there is the fast wired connection that you can get too.
Oh, and if you want to disconnect, it is as simple as just one click away. If you want to connect with this particular product, head on to the OWC store and pay $279.00 in Silver or Space Gray.