With the world of technology the way it is, people need things like a Thunderbolt 3 dock. We've reviewed some of these in the past- including one by OWC. This is a similar one, but a few different features. We'll do a review of the dock we were given recently.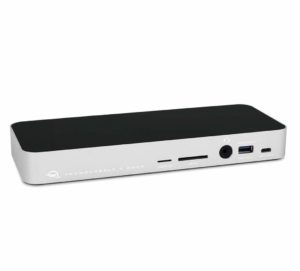 OWC Thunderbolt 3 Dock Features
This dock, compatible with Windows and Mac has 14 ports. There are 5 in the front, and 9 in the back. This doesn't include the port to plug the power adapter into. Here's the list of ports available:
Front:
SD card slot
Micro SD card slot(new for this one)
3.5 mm Headphone jack
High powered 3.1 Gen 1 USB type A port
High speed USB type C port
Back:
4 USB 3.1 Gen 1 USB type A port
Digital Audio output
A port for your Gigabit ethernet connection
2 Thunderbolt 3 ports – 1 to Daisy Chain additional Thunderbolt 3 devices and displays. The other works to charge your notebook up to 85 W
A port to connect a 4K display, TV or projector that has a DisplayPort++

OWC Thunderbolt 3 Dock Specs
This dock comes with a Thunderbolt 3 cable. It is not very long, and some users might wish to buy a separate longer cable. It also includes an external power supply and user guide. The sleek dock is 9.1 x 1.0 x 3.5 inches and weighs 1.2 pounds. A two year warranty will ensure user happiness.
Purchasing the OWC Thunderbolt 3 Dock
The OWC Thunderbolt 3 Dock comes in Silver(like the one we received) and Space Grey- which is just a darker color along the side of it. This item can be purchased for $299.00 on Amazon.com. We were given a free one for review purposes, but our review is not influenced by outside sources.