Parents nowadays have their hands full with kids and electronics these days, but thankfully, parents also have a lot more  tools in their tool belt than our parents did  I remember my mom giving me lectures about how loud my music was in my ears. She thought I would go deaf one day. Well, today, parents have options to  protect their kids' hearing. We have reviewed some similar products in the past, but now we'll do a review of some other cool headphones for kids.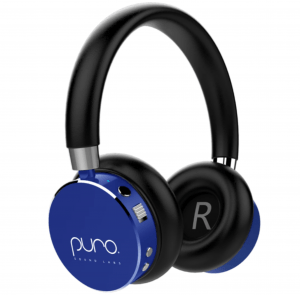 The Puro Bluetooth Volume-Limited Headphones for kids are headphones that your kids will love if they are wanting some nice, adult-looking headphones. They have a wired or wireless option that will work with all Bluetooth devices. At a maximum of 85db, you can be sure that the kids won't ruin their hearing. The sound is impressive for kids' headphones. They have some good bass. I'm sure most kids using these will not be true audiophiles, and you are not spending a ton of money on these, so I think you'll get what you pay for here. There's also a built in mic, so kids can talk to their gaming friends.
So I'm sure you are wanting to know how long the headphones will last before needing to be charged. You can get a good 18 hours- depending on the volume level, of course. This is a good amount of time. I found that I couldn't figure out how to tell when it was fully charged. A red indicator light comes on while charging. When you turn the headphones on, they will tell you if the battery level is high. That doesn't help much, but when hooked up to your device, it should tell you the percentage of battery level on your device. A micro USB cable, which is supposed to be included, will charge these. We did not get a cable for this with our unit, but we found another micro-USB cable and it worked well. I think all future models need to get USB-C charging, though.
The pads on the ear cans are small, but well-padded. They look to fit over the ears of small children- as opposed to resting on, but they are comfortable, and the headband is well padded if your child's ears happened to be a little bigger. The controls are all located on the left can. There is a bluetooth pairing button(also doubles as a pause and resume play button), an on/off switch, volume buttons, and ports for the jack, and the micro USB port for charging. The cans turn out, and the headset fits nicely in a hard protective carrying case.
If you'd like to buy these headphones, they are running for $79.99 right now. They come in four colors- Red, Teal, Blue and Gray on their website. I've also seen them in Pink and Purple on Amazon. Those are currently out of stock, though. We received our headphones for free, but no other compensation has been paid for our fair and unbiased analysis.