Master & Dynamic is a company known for their high quality headphones. We have had the opportunity to evaluate some of their product in the past. The sweet, retro-style headphones have a hefty price tag, but we'll show here that they are worth every penny. These are the MW65 Active Noise-Cancelling Wireless Headphones.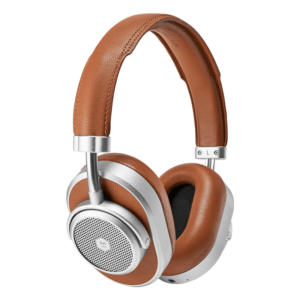 MW65 Build and Comfort
The lightweight earphones are made of quality materials- including premium leather and anodized aluminum. The aluminum construction makes these phones less likely to break down than plastic material would. The ear pads are replaceable, and are made out of memory foam covered in lambskin.  This makes for a truly enjoyable listening experience. The ear cans are not jointed, so they don't fold in like many headphones do for storage, but they do swivel, so they will lay flat in the included storage bag. They weigh a little less than 9 ounces.
How do They Sound?
With custom 40 mm Beryllium drivers, these headphones have the rich, warm sound that this company is known for. Unlike Beats, these are not bass heavy, but more natural sounding. If you need the heavy bass, you can download an EQ app for your phone. The MW65 has active noise-cancelling in the form of a button that switches between three settings- no noise cancelling, low noise cancelling, and high. You can choose which level is better for you. Not using noise cancelling will extend the already long battery life even more. There are also dual microphones that filter out noise and provide for the ability to have clear phone calls, and also to talk with Google Assistant.
Battery Life and Bluetooth Connectivity
These wireless headphones have an amazingly long battery life. 24 hours of use can pass between needing to charge the battery. You can give it 12 hours of charge in only 15 minutes. This is all pretty amazing. Equally awesome is the 4.2 Bluetooth capabilities that allow you to stay connected with about a 65 foot range! It connects very quickly and effortlessly to your Bluetooth enabled devices.
What's Included
If you fly on an airplane, these headphones will continue to be of benefit with an included flight adapter and 3.5 mm audio cable. There is also a USB-C to USB-C charging cable and a USB-A adapter. A canvas carrying pouch is in the box as well.
Want to Purchase?
Those headphone aficionados who appreciate these high quality headphones will not blink at the $499 price tag. You can purchase them on the Master & Dynamic website. They also come in a black leather/Gun Metal color combo, but at the time of writing, it is only available in the brown leather until it's back in stock June 10th.
Disclaimer- We were sent these headphones for free to review by Master & Dynamic. No other compensation has been received for our fair and unbiased analysis. If purchases are made through Amazon Affiliate links, we will receive a small portion of those proceeds.