Anker has been a nice provider of fun tech products for us to review. The last Anker product we got to try out was the SoundCore Rave Mini. Today we'll get a chance to review another SoundCore product that will allow you to listen to your music personally. We'll also take a look at a wall charger that could work alongside this product.
Anker Soundcore Liberty Air Wireless Earbuds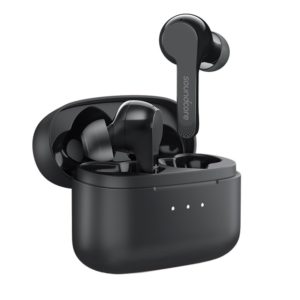 These earbuds are a bit reminiscent of the popular Air Pods by Apple. They have a similar design and charging case. There are a few differences, though. Mostly in cost. These wireless earbuds cost about $80, as opposed to the $145 price tag I see now on Amazon for the Air Pods.
The sound quality is about the same, although the Air Pods seem to be stronger on bass. Since the Liberty Airs have the interchangeable ear tips for a custom fit, there is definitely more noise cancellation with the custom fit. The Air Pods case is able to charge wirelessly and provides four more hours of charging abilities than the 20 hours the Liberty Air case provides. The ear buds themselves both have about 5 hours of listening time.  Not a big deterrent, but the Liberty Air case is slightly bigger/bulkier. Both ear buds use touch control, and while Air Pods might be more intuitive, the touch control for Soundcore's ear buds can become easy to maneuver.
Anker's PowerPort III Nano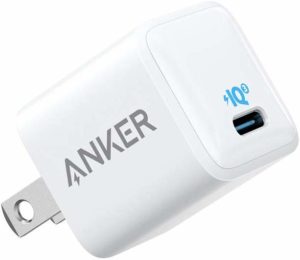 There's not a lot to say about this little gadget. It's another great product from Anker, and it will charge your devices quickly with IQ3 technology. The PowerPort III Nano is compatible with USB C charging. The $20 wall charger is very small and compact in a cubic inch that packs 18w of power.
The technology is built for safety. You will not have to worry about overheating. Be aware that this does not come with a cord. You can purchase separate cords that will charge Apple products as long as they are Lightning to USB-C ended cables. Anker carries these cords, as well as USB- C to USB- C cables. These run around another to $15 to $20, generally.
Thanks to Anker for sending us these products for free in exchange for our fair and unbiased analysis. No other compensation has been given for our review. If you are interested in the Liberty Air earbuds, you will find them here. The PowerPort III Nano can be purchased here.