Here is another pair of true wireless earbuds. These by a company called Rimor which makes other TWS earbuds as well. We have not reviewed any of their earbuds in the past, but I've read that these are an upgrade on others.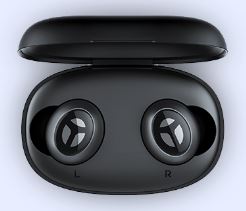 These earbuds are not concave in the middle- no matter what the picture looks like. They have a similar look to other TWS items we've reviewed before. They're kind of like these without the stem.
Budget earbuds don't mean you have to sacrifice on sound. These are not bass heavy, but sound great with the mids. They have Environmental Noise Cancellation Technology, and a good mic for answering calls. The 3 different size of ear tips can help you block out sound even more, and also ensure for a good snug fit.
The battery life is good- up to 8 hours continuous play, and 40 hours total with the charging case. The charging case utilizes a USB-C to charge, but you would think that wireless earbuds could charge wirelessly. Alas, they do not.
Other great features- they are waterproof up to a rating of IPX5, a great Bluetooth connection, lightweight(10 g), and they have touch control.
All in all, for the price of $80, you can get a great value without breaking the bank.
As with most of the products we review, these were given to us in exchange for our fair and unbiased analysis. No other compensation has been given.