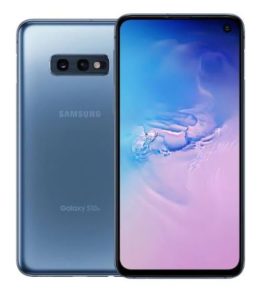 Our son was in dire need of a new phone and it was time for an upgrade, so TechnoMark took him to Verizon to pick something out. When they got back, I was informed that they had chosen the Samsung Galaxy S10e. This is in the line of newer phones, but not as big as the S10 or S10+. Still, it seems to be a good value for the money, so we will cover this phone in today's review and tell what all we like about it.
Storage and Battery Life
The S10e has 128 GB of storage plus a slot for a microSD card should you need the extra space. If you want the model with 256 GB, it's another $100, and probably better to buy the S10. The battery life is not the best around, but at 3,100 mAh, it's still impressive- better than my Google Pixel 3. There is a Snapdragon 855 processor in this phone which gives it great speed.
Build
About the same size as the iPhone XS, this one has a 5.8 inch screen with a resolution of 438 ppi. It has Gorilla Glass 5 on the front and back. The other S10 phones have Gorilla Glass 6 on the front. So the screen is slightly more fragile, and I would suggest getting some protection on that baby right away. We've done a lot of case reviews for this phone, including ones from Speck. My almost 16 year old has had his phone for a few months now, and it has held up really well so far.
Camera
If you know me well, camera quality is important to me. The S10e camera only has the two cameras on the back- as opposed to the three that all the new phones have. The front facing camera has 10 megapixels(just like the others). The back has a 16 megapixel, wide-angle camera. It doesn't have a telephoto lens like the other phones. All in all, it is a good camera for what my teenage son wanted.
Final Thoughts
Google Pixel 3 has come down in price since I wrote my article about it, so you can now get it between $420 and $500. Of course, everyone is looking for the Google Pixel 4 now. The S10e has a retail price of $749.99, while the S10 is $899. The S10+ is about a thousand dollars. It would probably be a better comparison to the iPhone which my daughter recently got, but we'll cover that next decade. 😉
Likes- Fingerprint sensor on the side of the phone, and facial recognition to unlock.
Dislikes- Bixby. Better to just use "Hey Google."
And that is the final article for 2019. See you next decade. TechnoMark will be heading to CES next week, so we're looking forward to all the new products to review and the companies we will get to know!