Satechi is a company we have not worked with before, but TechnoMark was introduced to them at CES 2020. They are based out of California, and create a variety of tech and gadget products for the everyday consumer. We have three of their products to review today.
TYPE-C DUAL MULTIMEDIA ADAPTER
We've reviewed other multimedia hubs and adapters before, this type-C multimedia adapter will work for you to plug in several peripherals if you have 2019/2018 MacBook Pro, 2018 MacBook Air, and 2018 Mac Mini.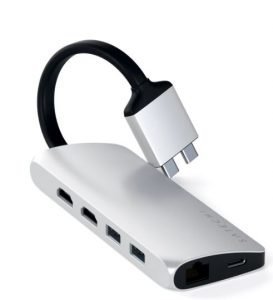 photo credits: Satechi
You can use this sleek device to charge through USB-C PD up to 60w. Two HDMI ports will give you up to 4K- one of them at 60Hz, and the other at 30Hz. There is a Gigabit Ethernet port, and a Micro/SD card reader with speeds up to 104 Mbps. There are also two USB 3.0 ports to provide up to 5 Gbps.
This device is small and portable, without the need of an extra plug. It comes in Silver or Space Gray and costs $109 on their website.
Type-C Pro Hub Adapter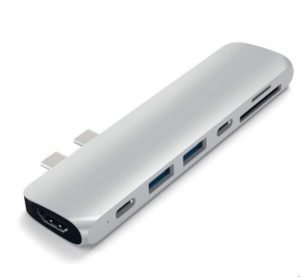 Here's another adapter- this one plugging directly into the two USB-C ports in your 2016/2017/2018/2019 MacBook Pro and 2018 MacBook Air. It has this aluminum finish, but comes in colors of Silver, Space Gray, and Gold.
As with the other product, this will give you more options to plug things in. It includes a 4K HDMI video output port. The USB-C PD port for data transfer of speeds up to 40Gb/s and pass through charging for both 13"  and 15"  MacBook Pro models. Another added USB C port provides quick data transfer with speeds up to 5 Gb/s. It does not support pass-through charging for MacBook pro. There's also 2 USB 3.0 ports and two separate ports for a micro SD card and a regular SD card.
This device can be purchased on the website for $99.99.
Finally, we have the
Trio Wireless Charging Pad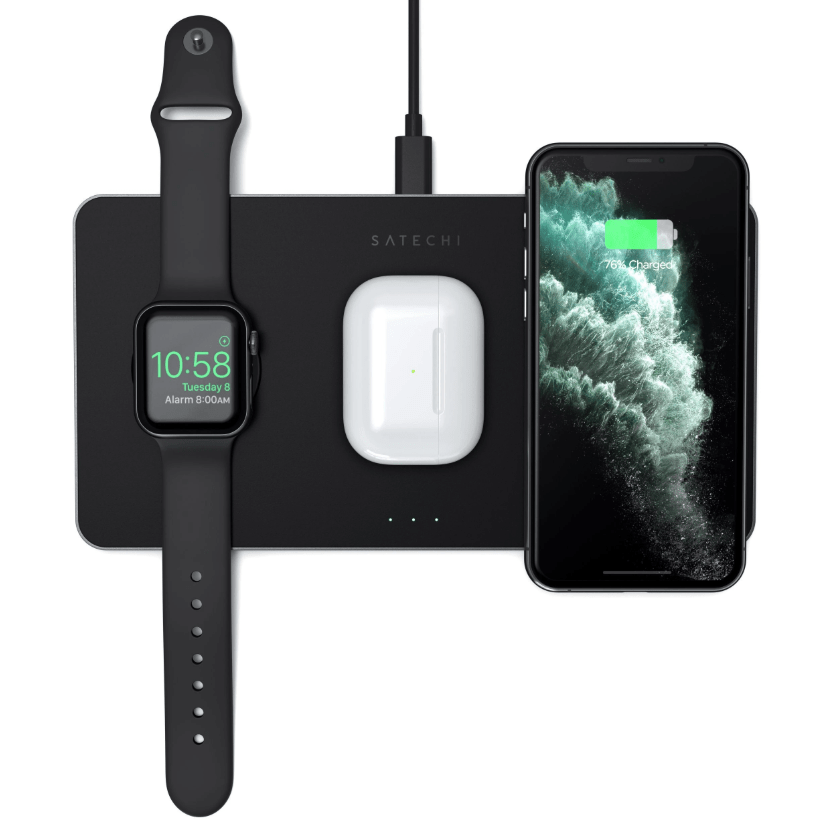 We've reviewed other wireless charging pads, but I believe this is the first one we've reviewed that will charge up to three items at a time. This item is dedicated to Apple products mostly, and it has distinct places where to put each item. There is a spot for Apple Watch, AirPods or AirPods Pro, and iPhone 8 or above. Three LED indicator lights will tell you when each item is placed correctly for charging.  You can technically charge other Qi enabled smartphones, but unless you have the right products for the other spots, this might not be a good fit for you. It comes with a 24W PD Adapter, a USB-C Cable (40″), and a
UK & EU Plug.
With there being such a slick top, you will have to keep an eye on the positioning of your devices. The footing doesn't seem to be very stable, either, but otherwise a decent product.
I've seen a lot of ads for this on Facebook, and I know that they are currently offering 20 percent off, which will take a bit of the price of the retail cost of $119.99.
This item costs $119.99 on their website.
Thanks to Satechi for providing us these products to review. No other compensation has been given to influence our fair and unbiased opinion.