We're shifting gears in our reviews and looking at products that would appeal to kids. Kids are all about electronics these days, and they have their phones and iPads that hold their attention. Here are a couple great ways to use electronics for learning.
Shifu Orboot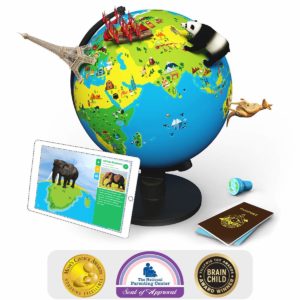 At first sight, this 10 inch globe looks like your basic globe you might have had in your classroom at school. With a smartphone or tablet, and the downloadable app, this Augmented Reality device turns into an interactive learning tool that brings the world to life. It's created for kids ages 4 to 10, but I think even older kids will be able to get something out of it.
What's in the box?
10″ custom Globe (No borders or names on globe)
Passport
Stamp
Stickers Booklet
Comprehensive help guide
The app is compatible with the following devices-
iPad 5th gen and above
iPad Air all models
iPad Pro all models
iPad Mini 2 and above
iPhone 6 and above
Android Device with minimum 3 GB RAM
The app contains games, puzzles and other activities. You can adjust the level of difficulty to make things age appropriate.
If you would like to purchase an Orboot, it's $54.99, and you can buy it here.
Plugo Letters AR-powered Word Play Kit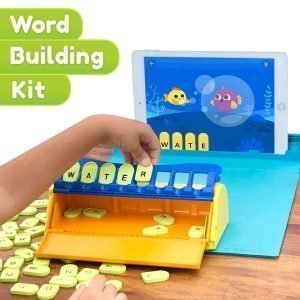 We've reviewed other Plugo kits, but this one is a different kit that helps kids learn to spell and create words and learn about grammar concepts, too. This kit comes with 48 letter tiles, a gamepad- which is what the device is propped up in, and the tile holder. The tile holder reminds me of a scrabble tile rack, but this has specially designed slots, and you can hold all those tiles in a convenient case. The pieces are small and magnetic, so I wouldn't get it for a kid who likes to put things in their mouth.
Your device will work with this kit if it is an iOS device- most newer iPads and iPhones. It also works with 2015 and newer Android devices. Check the list out on the site if you're wanting to know for sure whether or not your device is compatible.
There are 5 different games with over 250 levels. The suggested age range is 4-10.
Here's a video of the kit at work:
You can purchase all of this on the Shifu's shopping page, or Amazon.com. The Plugo Letters kit sells for $49.99.
We were given these to review for free. No other compensation has been given in exchange for our fair and unbiased analysis. We are not sponsored by this company.