We're no strangers to Brydge. They've sent us some great products in the past- including other keyboards similar to the one we're about to review. As iPad Pro has changed, Brydge has kept up the pace to make wireless keyboards to fit. This one is for the 12.9 inch iPad Pro.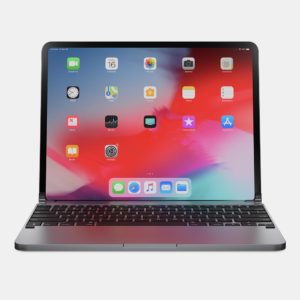 The wireless keyboard is sleek and responsive. It has backlit Qwerty keys with three different levels of adjustable brightness. These keyboards only come in two colors- Space Gray and Silver(as opposed to the other colors that earlier versions came in). Putting your iPad in the adjustable hinges will allow for a wide array of viewing- anywhere from 0 to 180 degrees. Unfortunately, it doesn't go all the way around to the back, so you have to remove the iPad to really use it as such. A magnetic cover is also included to help protect the back of your iPad Pro from scratches.
The battery life is similar to the others we've reviewed- 12 months of 2 hours a day use. This depends on the brightness of the keys, too.  There is a USB- C charge cable included in the box. The size of the keyboard depends on the size of your iPad, but the heaviest it comes in at is 1.51 lbs for the Brydge Pro 12.9. The price varies between the 12.9 size and 11.0. It is $20 more for the larger size. For the 11.0 inch, it is $149.99. For the 12.9 inch, you can purchase it at $169.99 on the Brydge website.
Brydge sent us the 12.9 inch model to review for free, and no other compensation has been given for our fair and unbiased analysis.