Pelican is a company that we've written about before. They are a U.S. company that supports the military. It seems appropriate that we can do this review before Memorial Day Weekend.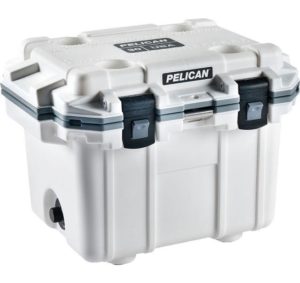 Pelican brings many cases to carry your stuff. This one that we are about to review is for food. It's one of the several coolers that they carry. We hope to be able to review others, but this specific one is the 30 quart Elite.
Made with a sturdy hard shell, this cooler has 2 inch thick insulation that will keep things cold for a long time. It claims to have the ability to keep ice from completely melting for up to 7 days. Most reviews have said that their ice has lasted between 5 and 7 days. There seems to be techniques to get ice to last as long as 10 days. This blog has some good tips. The cooler does have feet on the bottom, which is one of the tips. This keeps the cooler off the hot ground, and air flowing between the ground and the Pelican cooler.
One thing I noticed when opening the cooler is that it smelled strongly of polyurethane. You will not want to get this cooler right before leaving on a trip without being able to wash it out and air it out.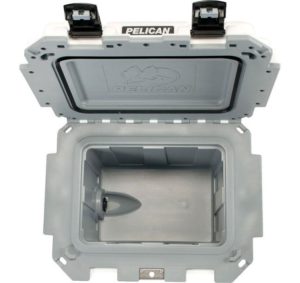 The cooler can carry a lot of stuff. With an internal size of 14.6" x 10.2" x 11", you can fit up to 22 cans of soda.You can also carry about two days worth of food and 12 cans. It's all pretty amazing, but is pretty big(not the largest size) and bulky. One person might be able to carry it if they're in good shape. I think this one would be nice with wheels and a handle to pull. Some of their other coolers have these features. It will definitely come in handy for car camping it you don't have far to carry it.
Some other great features are the built in cup holders in the lid. The press and pull latches help keep it sealed tight. It's certified to be bear proof. The built-in bottle opener
is made with corrosion resistant stainless steel. A built-in fish scale will help you see exactly how big that fish is that you caught.
This high grade cooler comes in 12 different color combos. We received the Canyon Red/Tan one to review, and it's really a nice color. Maybe you will find the color combo you are looking for. The cooler costs $224.95 on the Pelican site. That may seem like a lot of money, but the value you get is worth it. It also comes with a lifetime guarantee. Although our cooler was given to us for free to review, no other compensation has been given for our fair and unbiased analysis. We are not sponsored by Pelican.