Everyone knows the company of iHome. They have sent us products to review in the past, and today we have a couple more to review. These are two types of lamps in the Zenergy line to help with meditation and relaxation. One is a genuine Himalayan salt lamp with built in sound therapy tracks. The other lamp uses aromatherapy and light therapy along with sound therapy tracks and Bluetooth connection.
iHome Zenergy Salt Lamp + Sound Therapy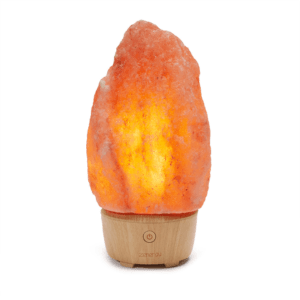 This lamp has a lot of great features to bring a peaceful state into the home. Each rock is naturally hand-mined and chiseled, so the size and shape will vary. The salt rock is 100 percent genuine Himalayan salt, and this freshens the air around it while reducing harmful ions.  The light is programmable to set a sleep timer, and also to gently wake with a sunrise timer.
There is a Breathing Coach (4-7-8 method, with or without voice), and 10 relaxing sound modes: Calming Meditation, Zen Sound, Dream, Calming Ocean, Thunder Storm, Nature, White Noise, Pink Noise, and Fan Noise.
It comes with a 15 watt bulb, and a protective coaster. Here's a video that shows it at work:
This item costs $59.99, and can be bought at places like Best Buy and Amazon.com.
The Zenergy Aroma
A long time ago, I reviewed an item that this reminded me of- the PlayBulb candle. I went back and looked at this item that was not as advanced as the iHome Zenergy Aroma device.  I really like this one a lot. It's an aromatherapy diffuser(a 5 mL bottle of lavender included), light therapy, and sound therapy all in one compact device.
You can set a sleep timer for the amount of time you want the aroma, light and sound, or you can control it from a distance with the remote control. It's programmed with seven different light therapy programs- including Aurora, Energy, Candle, Calm, Glow, Breath, or Favorite Color.
There are 3 reusable aroma pads included. You can purchase other aroma pads if you have more than three scents. Other essential oils can be used as well.
This device will connect to your Bluetooth enabled phones, but it's not meant to be a speaker for entertaining. It's mostly for playing calming sounds at night. It also works as a speakerphone. There is no app for it, however. I think that would be a good feature of this product, and would say it is the biggest downfall.
Still, a very decent product- one that I will enjoy very much. If you think you'd like this product, it sells for $79.99 at stores like Best Buy, Bed Bath and Beyond and Amazon.com.
Disclaimer- We were sent these items for free to review. No other compensation has been given for our fair and unbiased analysis.