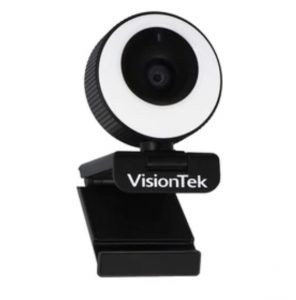 It seems like just last week that we reviewed a VisionTek product, and was because it was last week. This time, it ain't no Docking Station, but a good old-fashioned webcam with the VisionTek VTWC40.
Yeah, I will have to say that webcams are still needed as not every laptop or display has one, but they really should. However, times change, and with them, consumer needs. I show on my video the difference between the webcam on the laptop that I regularly work on from Lenovo, and then there is the footage from the VisionTek VTWC40.
You can see the difference, right? I know that I do. Now, most of us really need webcams in a potential COVID-19 era with Zoom meetings. Not only can the VisionTek VTWC40 do full 1080p at 60 frames per second, but it has a built-in ring light.
As you might have guessed, this requires a USB connection. I found that once I went to my webcam program on my Windows laptop, I was able to very easily switch from my webcam to the VisionTek VTWC40 quite easily at a touch of a button. Oddly enough, no software upgrade or downloads were required.
Speaking of a touch of a button, the ring light turns on at the touch of a button, a slight one at that. Then you can adjust it from there. It's strange that the light only works when you have the camera activated, but I guess that is a safety feature so you don't wear out the bulb in it or something.
I should probably take a moment to talk about the construction of this guy, as it has some odd fold-out base for adjusting for any type of laptop. There is also some kind of screw-in base that is made for most tripods.
If this VisionTek VTWC40 Premium Autofocus Full HD 1080p Webcam is something that you want, head on over to the VisionTek site and lay down $89.99.