Not long ago, we had the chance to review some iHome Zenergy products. Today, we have another great iHome product that will bring peace through Aromatherapy and white noise. It also wakes you up and charges your phone!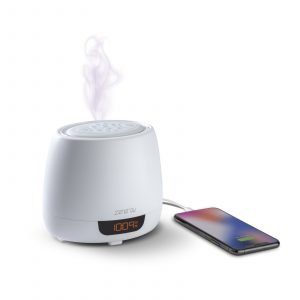 This 5.99″ W x 5.20″ H x 4.61″ D device sits nicely on a bedside table while holding enough water and essential oil to diffuse for up to 18 hours continuously, or 54 total interval hours without needing its 250 mL reservoir refilled. And if it runs out, it automatically just shuts off the diffuser part when empty. You are all ready to go when the box arrives with a 5 mL bottle of lavender essential oils.
On top of the machine, there's a remote that is removable, so you can control the aroma, the volume, sounds, alarms, and all from anywhere in the room. There are 12 different modes of zen sounds- Air, Focus, Dream, Trance, Nature, River, Drive (noises from a car ride), Quiet, Meditation, Zen, Ocean, and Storm. Lots of different sounds to help you remain calm or fall asleep. You can set alarms to wake you up gradually with these sounds and with aroma. Also, there's a battery back-up in case the power goes out. It does not run on the battery mainly, though. A universal voltage adapter is included in the box. It's a little big and bulky, which is not very conducive if you want to travel with it. This is the main power source. A USB charging port is built in to charge your phone. The charging cable is not included.
This is a great product for consumers who need better sleep, or a calm and peaceful environment. We like the line of products Zenergy has come out with to make things more peaceful in our home. This product was sent to us for free to review. Want to purchase this machine for $79.99? You can check it out on their site(which takes you to Amazon to purchase). We are not sponsored by iHome, and no other compensation has been received for our fair and unbiased analysis.