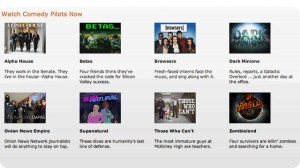 I'm sure most of you know that I spend way too much time movies and television. I never really understand who in the world picks out TV shows and why some that are enjoyed by people, like Firefly, get their plugged pulled prematurely.
Amazon has recently launched 14 pilot episodes, and there is going to be a "showdown" to see, I don't know, which one will last. It looks like Amazon is interested in feedback, and I really hope that they will listen to positive and negative ones.
One of these shows is Zombieland, which is based on the movie of the same name. I sort of enjoyed that movie, and perhaps it can give The Walking Dead show a run for its money. I believe that Amazon's move might be inspired by Hulu and Netflix, who have original series of their own.
If you are interested in looking at these shows, check it out on an Amazon account wherever you watch that. You know, like on the Kindle Fire, Roku, or whatever.