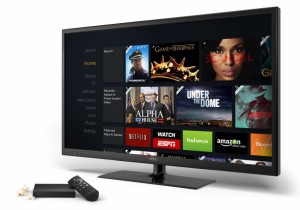 A while ago, I mentioned that Amazon might have some sort of gaming system, and it looks like the world biggest bookstore/river announced that they will be giving customers what they want, what they really-really want, with the Fire TV.
The Fire TV is a set-top box that has to be one of the smallest. In a big presentation they made today, Amazon also improved on three areas in set-top boxes with Simplification, System lag, and Content. The Simplification will be easier and faster, and will even have built-in recognition on the remote. The system lag that plagues most set-top boxes is solved with a quad-core processor, dedicated GPU, 2GB of RAM and dual-band Wi-Fi.
As for the content, it is going to have a lot of it with a platform built on HTML and Android. Fire TV is planning on having Amazon's own video service along with Netflix, Hulu Plus, Crackle, HBO Go, SHO Anytime, and much more. It will also have Pandora, iHeartRadio, and TuneIn. And let us not forget about games! I already talked about the gaming controller in my last article, and you can see a picture of it there. They announced Minecraft, Asphalt 8, a Monsters Inc. themed game, and Sev Zero. There will definitely be more.
If you want the Fire TV, it is available today on Amazon for about $99. The game controller is about $40.