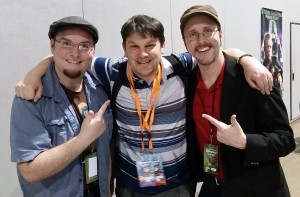 Yes, that is me in the middle, and the Nostalgia Critic on the right. On the left is Rob Walker, the Nostalgia Critic's brother, and this picture was taken at MomoCon 2015 in Atlanta two weeks ago.
Okay, about a few years ago, I remembered hearing of a movie called Delgo, and I had never heard of it. Apparently, it was one of the worst computer-generated films of all time, and I thought that I could probably find a way to watch it for free online. I could not find it, but I found an Internet critic of it. From there, I became hooked on Internet critics, and if you are not familiar with them, it is essentially when a critic reviews a movie by showing quite a few more scenes than Siskel and Ebert, and really makes fun of it.
I found one of the best known as the Nostalgia Critic. The Nostalgia Critic, aka That Guy with the Glasses, aka Doug Walker, is a man that I could easily watch every day, and he has been doing work as an Internet critic since around 2007. In his early years, he would take movies that were not well-received, and he gave these films a deserved beat-down.
Some of the films he has done in the past include Batman and Robin, Space Jam, Patch Adams, and usually a lot of nineties ones that some have considered treasures from their childhood, but Walker disassembles these films for how bad they actually are. He has done other more recent films, and the most recent, to this writing, is Jupiter Ascending.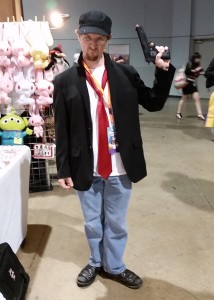 What makes the Nostalgia Critic so interesting is that he has a lot of charisma and excitement when talking about film. He has the exuberance of Weird Al Yankovic, and he can get pretty loud when ranting about how stupid scenes from blockbusters can be. He is at his best when he is reviewing bad films, but he has discussed good films as well, and a few editorial comments where he just shares is opinion. He has also done several Top 11 lists (why 11, because he likes to go one step further).
He has several other running gags on his show, which has really upped its production values since its popularity. It used to be, his show was filmed in his house with a single camera in front of a blank background, but now he has his own office and goes out of his way to create various parody sketches around the movies that he reviews.
The Nostalgia Critic has his own channel called Channel Awesome and there are many Internet Critics that are under his wing including Angry Joe, who reviews video games, Linkara, who reviews comic books, and various other critics who review other mediums. Doug is no one man show on his own program, as he also has a few assistants who work with him like Malcolm and Tamara, as well as his brother Rob.
I have no idea why I like watching the Nostalgia Critic so much, but perhaps it is that is as excited about TV and movies as much as I am, and there is absolutely nothing wrong with that. In a way, he shows fanboys like me that we aren't alone, and we have a voice. Catch him on Channel Awesome with a new video every Tuesday.