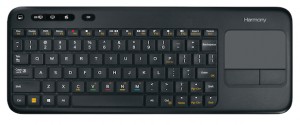 Whenever I write about technology, I always try and think about what brings it about. In the case of the Harmony Smart Keyboard from Logitech, it is a keyboard that replaces your remote control.
In case you are wondering why you would need the Harmony Smart Keyboard, just look at all the stuff connected to your keyboard! Yeah, you need a keyboard if you are going to want to type in that movie that you want to watch! What are you going to do, use the stupid PS3 remote to type it in? (Okay, that is a slam on the PS3, but seriously, it can be tough.)
The Harmony Smart Keyboard comes with a Hub that can fit in your home entertainment center, and you don't have to worry if you aren't pointing the keyboard the correct way. It is compatible with Apple TV, Roku, and the Xbox One, and it can support Bluetooth as well as IR and RF frequencies.
The Logitech Harmony Smart Keyboard will be available this month for a price of $150. I wonder if we will probably see more products like it.