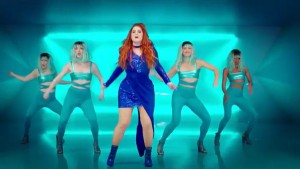 I'm sure that you have all heard of Meghan Trainor, who has done hits like "All About That Bass" and "Lips Are Moving", and she is often characterized as being plus-sized. Yeah, this is just not a nice thing to say about anyone, because most see it as a nice way of saying "overweight".
She recently released a video of her new single "Me Too", which is a new single from her new album "Thank You" which is coming on May 13. This video is full of Trainor in various outfits, which includes pajamas and a giraffe costume. Actually, that is pretty normal video stuff, honestly.
However, Trainor's waist was not normal, and it was slimmed down digitally. Trainor was infuriated by this cut, pulled the "slim-down" version, and released a new version today.
I am really siding with Trainor on this one. This really just shouldn't happen, especially when the singer has put in her songs lines about how Photoshop is fake. This is one of those times where it is really difficult not to get upset at the decisions of producers who really believe that they are giving us what we want.
I suppose that all I can say is "you go, girl".