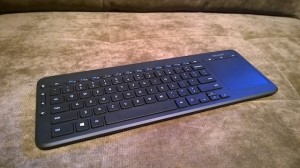 I think we all know that the computer isn't the only screen that we use a keyboard for. I suppose that Microsoft's All-In-One Media Keyboard is made for that screen in the living room.
This keyboard has a multi-touch trackpad for clicking, dragging, dropping, zooming, and swiping, just like you would on a laptop. Considering that we all are looking at content on our TVs and our laptops, it would appear that Microsoft is giving consumers what they want.
This keyboard works with the PS4, Xbox One, and other kinds of smart TVs connecting wirelessly to the PC through a USB transceiver. There are some hotkeys made for Windows, and it is durable and spill resistant.
You should be able to get this keyboard from the Microsoft Online store for about $39.95.