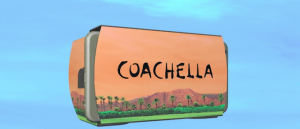 For those that aren't aware of an event known as Coachella, it is an annual music festival that brings together performances by some big names as well as some relatively new artists. It runs from April 15-17 and 22-24, and the welcome box has a VR headset.
Clearly, this is something new, and it has an application to go with it for pictures and interviews from last year's festival in virtual reality. Not only that, this application will be updated continually with new content until the actual performance.
So, it looks like it is possible to live stream Coachella performances, which means that audiences will not just be in the crowd. I can't help but wonder if this will be applied at other concert events, but I'm kind of out of that loop and don't know any off the top of my head.