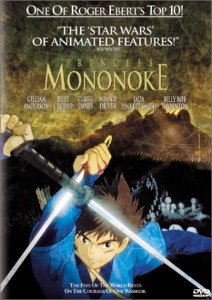 I'll go ahead and end this Miyazaki's month with Princess Mononoke, which some argue is Hayao's masterpiece. Personally, I have already stated that Castle In the Sky is my favorite of all his works, but I will say that most of his films are just fantastic. I also realize that there are some films that I left out, and I'll cover just a few at the end of this review, kind of like I did for my Pixar review.
Princess Mononoke takes place in ancient Japan, not like most Miyazaki films that take place in some steampunk alternative Earth or something. It begins when a prince named Ashitaka sees a spirit boar approach his village. It seems demonically possessed, and this spirit boar infects Ashitaka's arm. When I say infects, it is as if his arm has a mind of its own, killing people with incredible strength. Seriously one shot that Ashitaka takes with a bow rips limbs off.
Oh yeah, Ashitaka lives in some area where there are people terrorizing other villages around him. Yeah, I don't know the history well enough to understand their motivations, but there are a lot of parties at play in this film.
Ashitaka then meets a monk who tells him that there is a place known as Irontown which is seriously wrecking the forest. Yeah, this film has a lot of environmental messages in it, but it is nowhere near as preachy as say…FernGully.
Anyway, when Ashitaka goes to Irontown, he learns that it is ran by Lady Eboshi, and she is fighting a subtle war against the spirit animals. Apparently, the spirit animals don't like how Eboshi is treating the forest, and they fight, so Eboshi fights back, with guns. In fact, Eboshi was the one who shot the boar that infected Ashitaka.
Miyazaki once again shows that there really isn't a villain in the film, as all parties want something and believe very strongly that they have a right to it. I like the fact that it takes place in a world where there are spirit creatures like boars and wolves. The thing is that these spirit animals are not exactly united. For example, the wolves want to be rid of humans, and the boars kind of want the same thing.
The main conflict of this is the monk that Ashitaka meets wants to kill the spirit of the forest. Apparently, the spirit of the forest can be killed at a certain time in the day, and when the characters do that, bad stuff happens. From there, it becomes the whole everyone is being terrorized by the monster plot. The resolution to it is actually very interesting. You remember how the Ghostbusters faced off against the big marshmallow man and won? That doesn't happen here. I don't want to spoil any more than I already have, but I will recommend it.
So what other films have I seen by Miyazaki? Let's talk.
My Neighbor Tortoro: This is a film about two girls who meet a Tortoro creature. I'm assuming that this is some mythical creature from Japan, and Tortoro is quite cute. In fact, I would describe the whole movie as cute, and it feels like a film that a child would write, sort of like Ponyo.
Porco Rosso: This is another film about a character under a curse. In this case, it is about a pilot who is given the face of a pig. I think it takes place during World War II or something, and the plot is how he loves someone who loves him back, but he refuses her for some reason.
The Wind Rises: I haven't seen this one, but it is about some guy who designs the Zero fighter aircraft. I have no idea what it is about other than that.