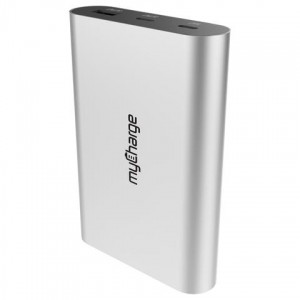 Oh yes, I have reviewed many MyCharge products in my time, and the last one was the All-Terrain 3000mAh rechargeable portable charger. This time, it isn't just your average mobile battery, but this one is capable of charging a laptop.
I am told that this is the first portable charger that can do a laptop, which is 8 times as powerful as a battery. The USB-C port delivers a 36 W output can charge a MacBook in about 100 minutes. On the reverse side, you can recharge the Razor Platinum via the MacBook 29 Watt adaptor in just two hours. By the way, it also charges any tablet, smartphone, or other device Razor Platinum standard USB-A port.
So, is there a power trade-off going on here? Just to let you know, the size of this thing is about the size of your hand. I figured that you can't tell from the picture, and you also can't tell that it is made from anodized aluminum.
If you want to get this, it is available on the MyCharge site for $99.99.