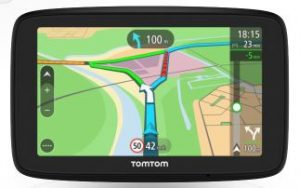 I'm going to go back in time to about a decade ago. I rented a car for CES 2008, and for some extra money, I could get a GPS unit. This was back in the days before everyone had a smartphone, and the unit that I was using was quite huge, too big for the glovebox. This was the days when companies like Garmin and TomTom were making a killing, and I thought that had ended when Google put their Maps up for free. Clearly, this is not the case as I have recently reviewed TomTom's GO 52.
Just opening the packaging really took me back, even though the GO 52 looked like your average smartphone. Granted, it was one with an easily reversible mount, but you can see in the image what I am talking about.
The GO 52 is set up for Wi-Fi, but if you don't have one of those cars that is also a Wi-Fi hotspot, don't worry. You can link your smartphone to the GO 52 thanks to the MyDrive app.
Not only will you get all the functionality of a GPS device, but this device will allow you to hear your text messages from your smartphone. This way, you can keep your eyes on the road and not on your device.
Oh, and if you want to access Siri or Google Now, you can do that. As it so happens, the TomTom GO 52 has a built-in microphone.
Now, just to let you know, this device only has one hour of battery life. I guess some cuts had to be made somewhere, but there is a charging cord and charger with your purchase.
You can purchase the GO 52 on the TomTom site for a price of $179.99.