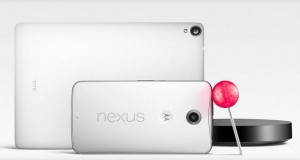 Some of you might have realized that I am a little late in my posting today, but this was because I knew Google was going to make a big announcement today. In fact, it is four different announcements while I will detail in four separate sections.
The first is the Nexus 6, a smartphone that has a 6-inch screen, the biggest smartphone to date. It's made by Motorola, with a Motorola Turbo Charger so you can plug it in for 15 minutes and get 6 additional hours of battery life. The camera is 13 Megapixels with 2 Megapixels on the front. The price is a high $649, and will be available for pre-order in late October.
As for the Nexus 9 tablet, it has an 8.9 inch screen with a pixel resolution display of 2,048 x 1,536. Inside is a 64-bit processor on NVIDIA's Tegra K1 chipset with 2 GB of RAM, and it also has up to nine hours of battery life. It can be pre-ordered October 17th, to be released on November 3rd. The price is $399 for the 16 GB model and $479 for the 32 GB model.
The other is the Nexus Player, which is a streaming media player made by Asus. It is also the first device that is running Android TV, and it will cost $99 with an optional controller for $40.
Here's another big announcement: Android 5.0. It is Android "L", or Lollipop. Both the Nexus 6 and Nexus 9 will have this new operating system, and it looks like I was wrong on the naming system.
Tomorrow, Apple will make their big announcement, which will probably be new versions of the iPads. We will cover that, for sure.