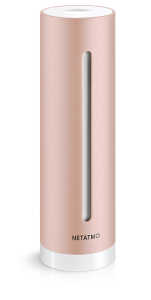 In addition to the Presence Security Light/Camera that we had a chance to try out the other day, Netatmo also sent us a Healthy Home Coach. That is this copper can that you see here.
The Healthy Home Coach bills itself as a "Smart Indoor Climate Monitor", and it appears to be targeted to families. The Healthy Home Monitor is like a thermometer for your home, as it measures its health in four ways. If you want any updates on the four of these areas, just tap it on top.
1) Humidity: If you are concerned about the humidity of your house affecting your skin or creating mold, this will tell you if you need a humidifier or not.
2) Air Quality: This is for the one who is concerned with indoor air pollution, as well as just poor ventilation in general.
3) Noise: This is for monitoring the sound level in your house, which will literally help you sleep better at night.
4) Temperature: Just like it reads, this will allow you make certain that your house is at the optimal setting of warm or cool, whichever you like.
Netatmo seems to imply that this is good for a baby's room, and you definitely want to be concerned about that if you have a child in the house. However, the Healthy Home Coach is made for all rooms, and you can even connect them together with the help of the application. Best of all, there is an easy set up via Wi-Fi, and there are no subscription fees.
You should be able purchase the Healthy Home Coach on the Netatmo site for $99.99. Don't be surprised if you see other devices like it in the future.