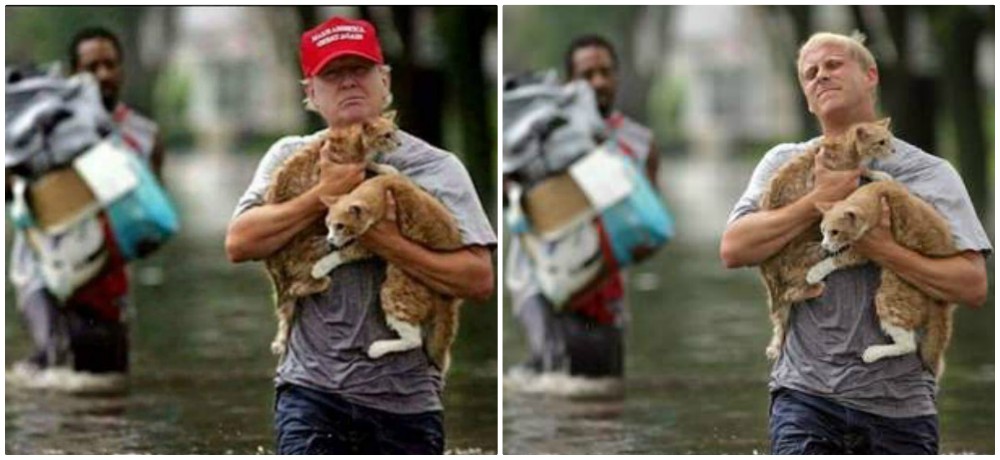 When I first saw the picture of Donald Trump carrying two cats, and the caption, "More Trump heroism that's being willfully ignored by the mainstream media!" It was in a post warning that it was a fake picture. I kind of scoffed at it, thinking,"Who would believe that picture is real? I don't see the physique matching that of Trump, and the skin tone is a bit off."
Low and behold, a couple of weeks later I see a very sincere person sharing it on their timeline.
The picture on the right was taken by David Greedy in June of 2008, and was posted on Getty Images.
This is not the only fake photo floating around the internet after hurricanes Harvey and Irma, though.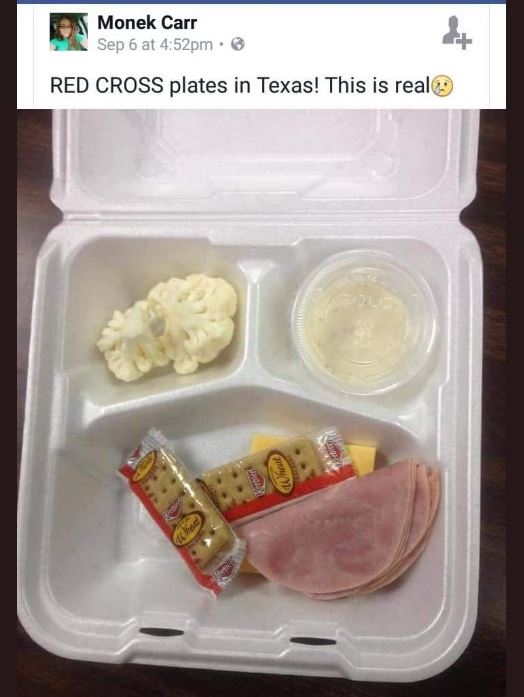 This picture has been floating around Facebook as a meal that Red Cross served to hurricane victims. The actual source of this is a school lunch served in Oklahoma in 2014. Many other rumors about the American Red Cross have been spread, as well.
The American Red Cross posted on Facebook on Tuesday, urging people to stop the "onslaught of baseless claims, rumors or outright lies that do nothing more than undermine our critical relief efforts."
"On this page, we embrace the exchange of different ideas and points of view. And during times of disaster, we know that emotions run high and misinformation is quick to spread. But these accusations (theft, charging for services, denying assistance) not only derail the efforts of so many workers providing aid, they divert resources away from our core mission: to deliver relief. The countless hours spent addressing malicious falsehoods ultimately risk hurting those we're trying to serve.
So for those of you who doubt our credibility, we have one thing to say to you: Join us. Sign up. Put on a Red Cross vest and volunteer at one of our shelters, blood drives or events. We welcome your service."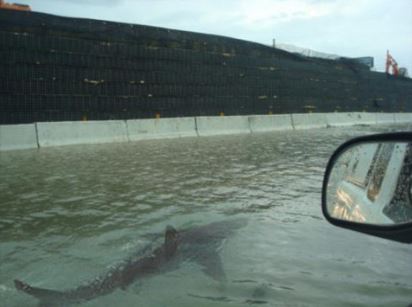 This picture has circulated through many hurricanes and other flooding since 2011. This is fake news, and has not happened ever. It's a digital composite.
This photo, while it did happen, did not happen in shelters after the hurricanes. It was taken during an event in November of 2015 when he served Thanksgiving dinner to homeless veterans.
So, friends, before you share something because it fits your narrative, take a little bit of time to research the photo. If you see it on Facebook, click on the picture from the source it was shared, and many times you will see that the photo/meme has been debunked. Check Snopes or other fact checking sites to see if something has been said. Numerous people have told me that they don't care when they've been called out on their erroneous sharing. Some even get upset. If you'd like to be taken seriously in other things, it really is imperative that you pay attention.