It hasn't been that long since we reviewed an MPOW product, and it was shortly after CES 2020. Oh, I wish I could go to a tech convention now. Anyway, we reviewed some wired earbuds last time, and now we review two wireless audio products with the MPOW X4.0 Wireless Over-Ear Heapdhones and M20 aptX True Wireless Earbuds
MPOW X4.0 Wireless Over-Ear Headphones with ANC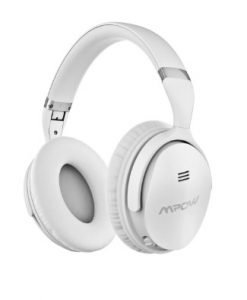 Well, it seems like every over-the-ear product these days needs to have ANC (Active Noise Cancelling), isn't that right iFrogz? In this case, you can switch on a button, and "all you hear is what you want to hear". Now I am told that it can reduce the noise of city traffic, plane cabin, or hubbub. Apparently, the human voice cannot be eliminated.
So that ANC is one bonus, but here is another thing: the very fast charging. Here's the figure: you can get 90 minutes worth of play time with just 10 minutes worth of charging. You can get 20 hours on a full charge.
It's pretty impressive, and here is something else impressive: they are built well and too last. You can gain some more information about the MPOW site here, and it is available at the Best Buy site for about $59.99.
MPOW M20 aptX True Wireless Earbuds with 106-hour Playback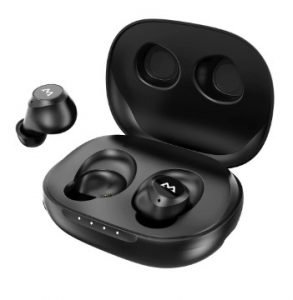 So, you can see that we have one of those in-ear earbuds that are wireless, and I have talked of them far too many times. The MPOW M20 aptX has industry-leading audio technology as well as Bluetooth 5.0 chip from Qualcomm, not to mention an LDS antenna derived from satellite tech.
This means that we are looking some good linking between the wireless earbuds and your source, and the MPOW M20 aptX last a long time as well. On one single charge, the M20 aptX can last 6 hours on a single charge. Not only that, it has a 2600mAh charging case for 100 hours of extra battery life, which is good for 16 times of recharge for earbuds. Remember the impressive stats on the X4.0? Well, the M20 aptX is good for 2 hours of use on 10 minutes of charge.
It should be also known that the MPOW M20 aptX is IPX7 Waterproof, which means that it can resist water, sweat, rain, and other kinds of splashes. It also has some sensitive touch controls for skipping tracks and volume control.
Oh, I forgot to mention the CVC 8.0 NOise CAncellation Technology, which gives some good sound no matter what the heck is going on around you.
You can find out more information on the MPOW site, and you can find it on Amazon for $49.99.