Introduction (Does It Do What It Should)
I'm always glad to review iOttie products, and we had a chance to review four of them. I'm going to take the time to review two of them at this point, and we'll do more in a little bit.
Our Review of the iOttie Easy One Touch 6 Dash and Windshield Mount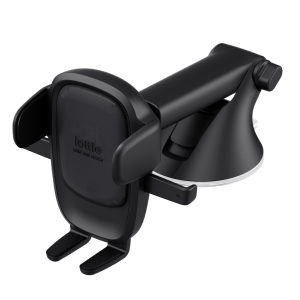 So, I have reviewed a lot of terrific Dash and Windshield Mounts, and even though you could technically classify the Easy One Touch 6 as "base level", that does not mean it is simply passable. I mean, this is the sixth in the series, as I have checked, and the Easy One Touch 4 and Easy One Touch 5 are still available.
So yes, iOttie has had a lot of time to perfect this dash and windshield mount, and it shows. You can see in the video how impressed I am that you can widen the gap by pushing in on the sides, and then putting in the phone grips it with its self-centering arms.
Yeah, it's great technology, and the base is also great as well. You can see me fumble with it a little in the video, as well as the arm that kind of raises it at an angle, and there is a telescopic arm for 5 to 6.75 inches.
Now, this would be a good time to talk about the suction cup that seems to have some kind of pasty stuff on the bottom. Then you pull this little lever, and it just sticks. Then there is nothing moving it, and you can adjust your smartphone from there. Oh, if your dash can't accommodate it, you can use this stickable base.
Sadly, this thing doesn't charge your phone, but it has a place to put a charging cord. So yes, it is very great, and I will highly recommend this.
Our Review of the iOttie Velox Pro Wireless Dash and Windshield Mount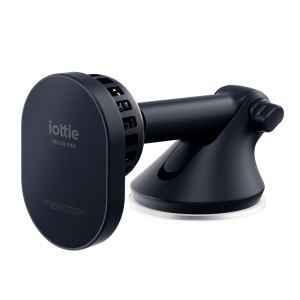 So this Velox Pro is a step up from that Easy One Touch 6, as it definitely has more features. Now you might notice that it has less things than the Easy One Touch 6, because you aren't supposed to have these things to clamp your smartphone onto the mount. It does have the Dashboard Pad and telescopic arm with rotating ball joint.
That is because the Velox Pro is MagSafe compatible, which means if you have a newer iPhone, charging is easy. This one does comes with a charging cord, although you can see me having a hard time finding where to plug it in the video.
The Velox Pro has this cool feature known as CryoFlow, and it is a cooling system to draw heat away from the iPhone. I am told that it has a semiconductor CyroChip, aluminum heat sink, and a 9-blade polycarbonate fan with 20 intakes to maximize airflow. I found it really strange when I heard about this, because I thought this fan inside would make some noise, but it is silent, and the charging place is cold.
Facts About The Company
I have to admit that I thought iOttie is a newer company than I thought. According to the "About Us", the company started in 2010, when smartphones were starting to become the mainstream as far as mobile communication goes.
The company of iOttie began to innovate for the modern smartphone generation, and this includes creating new types of wireless chargers, power banks, and dash cams. The company is committed to sustainability, and "treating each new product as a work of art". I think iOttie lives its principles, really.
What Does This Company Make?
Like I said before, they have wireless chargers, power banks, and dash cams. Their automobile accessories are equipped for MagSafe, and are Alexa Assisted as well. As far as home and on the go, they are good for wireless chargers and wall chargers.
Just the Specs, Man
If you're the type that needs this info, this section is for you!
Specs for the Easy One Touch 6
U.S. patented Easy One Touch mechanism
Enhanced stabilizing cradle with self-centering arms
Streamlined telescopic arm
Improved cable management
Strong suction cup base
Easily adjustable bottom foot
Specs for the Velox Pro
Wireless charging up to 7.5W
Built-in CryoFlow™ cooling system
Powerful magnetic hold
Adjustable streamlined telescopic arm
Super strong suction cup base
Glass mounting face
USB-C charger included
Only compatible with iPhone 12, iPhone 13, iPhone 14, & iPhone 15 series
If there is something on this that I didn't cover, please let me know.
What Do the Reviews Say?
When it comes to the Easy One Touch 6, it's Amazon rating is very high at 4.4 stars from 128,674 ratings! That is pretty incredible, and I will actually rate it higher at 4.6, at least.
It's weird that the Velox Pro has 27 ratings at 3.7 stars. I am not certain what that means.
Okay, Get To The Unboxing Already!
Okay, I Like It, Just Give Me The Link So I Can Buy It Already!
Maybe I Want It, But Is There Anything Else Like It? Maybe For A Lower Price? Please?
Well, the only mount that I found that I had reviewed also belonged to Scosche, and it was pretty good. Oh, I also reviewed another iOttie product. So, yeah, I've reviewed iOttie and Scosche, a lot.