Introduction (Does It Do What It Should)
All right, it's time once again to review products from one of our favorite "i" companies, that is iOttie. This time, we have two different products from their Terus collection. The first is the USB Hub for Tesla and the Monitor Mount for iPhone.
Our Review of the iOttie Terus USB Hub for Tesla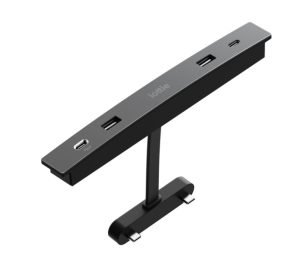 Okay, I had to admit that you need a Tesla for this, and I don't have a Tesla. Like you, I have a friend who has a Tesla, but I really wished they had Tesla Model 3 and Model Y vehicles manufactured in 2021 and later. I am assuming that these were the types of Teslas that I saw when I was at CES 2023, and you can see the video I did on TikTok on the video below.
According to the iOttie website, the Terus USB Hub for Tesla has a low-profile design that sits flush and blend seamlessly into Tesla interiors and not take up any storage space. I am guessing that the aforementioned Teslas have some kind of space between two front seats that can be plugged in very easily. I'm just going to guess that there are two USB-C ports underneath, a Dual USB-C Connector.
On the top are four ports, two of them are USB-C and two are USB A. The USB-C Port on the right is 18W Fast Charging, and the USB-C port on the left is 27W Fast Charging and Data Transfer. The other two USB-A ports are 9W Charging.
So yes, you are essentially doubling your ports, and not only do they do fast charging, but they support data transfer including Sentry Mode and Dashcam footage where they are available.
Our Review of the iOttie Terus Monitor Mount for iPhone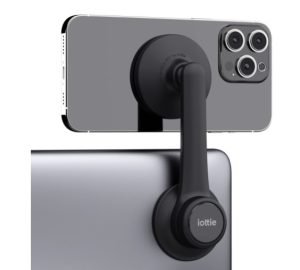 This next product from iOttie could actually be made for the Tesla, the touchscreen part. However, it could be used on any vehicle monitor and home desktop. I'm pretty certain that there are many places where this can be used.
I mean, it is essentially a way to link your iPhone to pretty much anything else. I mean, it has this sticky pad that you stick to anything, and it comes with another one if that one wears out. Or you could just have this stick this on something else. Then there is this powerful magnet for the iPhone (provided you have one that is MagSafe compatible), and it is on a swivel arm and rotating ball.
Okay, that is something, it really is. I mean, we all want to have our phones near us, as it is a second screen or, in my case, a third one. You can see that when I did the video of this product, I had to just kind of shift the video so I could show how it works. I had to admit that it was kind of interesting.
Facts About The Company
So, I discovered that iOttie has been around since 2010, about when smartphones became the standard. They seem to be dedicated to making products that make smartphones better for cars. Yes, I am not certain why the company is called iOttie, but I almost think it is some kind of form of i-Auto. Kind of. I might be stretching it there.
What Does This Company Make?
I talked about how iOttie likes to make mounts for smartphones in cars, but they also make other accessories for smartphones, and I covered two of them two weeks ago. So yes, they have stuff for Auto, as well as Home and On the Go. So, yes, there are products for the cars, and there products for the home.
Just the Specs, Man
If you're the type that needs this info, this section is for you!
iOttie Terus USB Hub for Tesla
2 USB-A ports for charging devices
2 USB-C ports for fast charging & data transfer where available
Wide device compatibility
Minimalist design
Made exclusively for Tesla Models 3 & Y manufactured in 2021 and later
iOttie Terus Monitor Mount for iPhone
Powerful magnetic hold
Soft silicone mounting face
Adjustable viewing angles
Detachable adhesive base
Modern, low-profile design
Only compatible with iPhone 12, iPhone 13, & iPhone 14 series
If there is something on this that I didn't cover, please let me know.
What Do the Reviews Say?
I will have to say that the iOttie Terus USB Hub has only six reviews on Amazon, and it averages at 4 stars (out of 5). The Monitor Mount has only two reviews, also averaging at 4 stars. Granted, this is as of 2/25/2023, so it could be because these products are rather new. I just checked out the iOttie product pages for these, and I didn't see any reviews there. Perhaps there will be more product reviews of this later.
Okay, Get To The Unboxing Already!
Okay, I Like It, Just Give Me The Link So I Can Buy It Already!
Maybe I Want It, But Is There Anything Else Like It? Maybe For A Lower Price? Please?
I believe that I described the USB Hub for Tesla as a niche product, and I think that is quite a good description. I can't remember if I have ever reviewed any kind of product that connects to the cigarette lighter port in the car and gives you some ports. I know that I have reviewed several products that plug into the 12V port and give you at least two ports, at best, perfect for charging your phone or tablet on the way.
As for the Monitor Mount, I can't think of a direct imitator. I mean, I have reviewed several products, one from iOttie that an iON Wireless Duo that sits on a desk and charges a wireless enabled charging device. I mean, its just a good to have some kind of device that can hold your phone while you are on your first screen or is it your second screen?
In all honesty, I didn't know where to do a search for this. I found this one by PureCell, and I can't remember any product that I have reviewed since then.