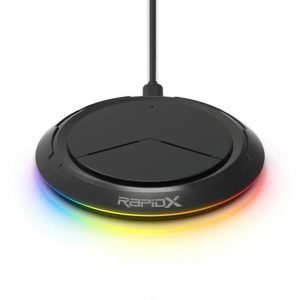 This is usually the time when I say that I haven't reviewed a certain product from a certain company, but I actually have reviewed a RapidX product not just once, but twice. Well, I was glad to review the Prismo Wireless Charging Pad, and I will tell you all about it.
I'm pretty sure that you know what this wireless charging pad is, right? I mean, if you have one of those Qi-enabled smartphones, then you just lay your phone on it, and let power flow to your phone via magnetic charging action.
Oh, I should also mention that the Prismo wireless charger has these lights around its circumference. In fact, there are 9 different modes that you can switch it to, with solid colors and flashy types as well. What I didn't see at first was how to change it with some button at the bottom.
So, if you want to get the Prismo Wireless Charger, head on over to the RapidX website and lay down $29.99 for it.