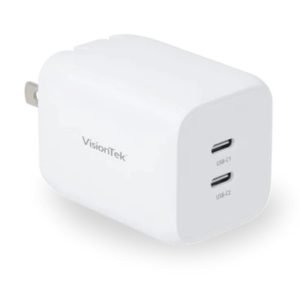 So, we had a great time reviewing VisionTek products in the past, such as that one Bluetooth Speaker, as well as that one Webcam. When I was at CES 2023, I had a chance to review two products from them with this 65W GaN II Power Adapter (2 Port) and the USB-C to USB-C 3.1 Gen 2 Cable.
So, the 65W GaN II Power adapter is good for two USB-C devices, which I like, as this will give you the power that you need. In fact, it will charge it up fast at zero to fifty percent in 30 minutes.
You can also see how small the charger is, which means it can fit in a small pocket, and it is good enough for charging a laptop. Apparently, this is pretty GaN green, which means it is good for the environment.
So, if you want to get in on this charging action, head over to the VisionTek site and pay $49.99 for it. But wait, there's more!
I feel that we need to discuss the USB-C to USB-C 3.1 Gen 2 cable, and this USB-C to USB-C cable delivers 100W of power delivery. It can also support speeds of up to 10 Gbps, which is USB 3.1 Gen 2 SuperSpeed Plus.
There isn't really much that I can say about a charging cord other than it charges, and it comes in varying lengths. It is available on the VisionTek site for $29.99 for the 1 Meter and $34.99 for the 2 Meter length.