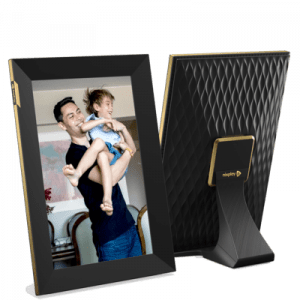 Oh yes, I have another chance to review another Digital Photo Frame, which makes three counting the AURA Picture frame and the PhotoSpring one. This time, it is one that we have reviewed before with Nixplay.
So, what makes this Nixplay Smart Photo Frame 10.1 Touch different from others? Well, this one has a touchscreen. Okay, so that is just like most of the digital picture frames that I have reviewed, but I do like the simplicity of its setup. From the moment that I plugged it in, I was able to connect it to my Wi-Fi network and then I was promptly instructed to download the app.
Yes, this is one of those particular frames where you just download them from your app. I had issues as the frame and my phone had to be on the same Wi-Fi network, but I got it to work. I was able to then upload photos from my phone to the frame, and I even did a short video as well. It should be known that this Nixplay frame wouldn't do any video longer than 15 seconds without upgrading my subscription.
I had a bit of an issue with the setup of the stand, but it was kind of overcame. I did like how the photos shifted automatically when I turned it in portrait to landscape mode.
I believe that the purpose of this digital picture frame is to connect people from a long distance. You know, so you can just upload pics and vids to frames.
That is all well and good, and it is available for purchase on the Nixplay website for $209.99.