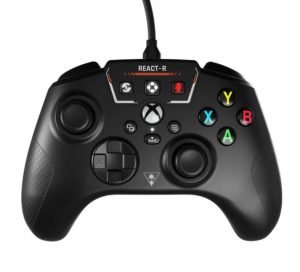 We like reviewing Turtle Beach products on this site, and the last one was the Recon AirChat. The Turtle Beach React-R closely resembles the Recon Xbox Controller that we reviewed a while ago.
So, what does this REACT-R controller have? At this point, I have to ask what it doesn't have for the Xbox Series X, Xbox Series S, Xbox One X, Xbox One S, and Windows PC. It has a 3.5 mm headset for some Superhuman hearing game and chat volume balance, not to mention some mic mute action.
Not only is the Turtle Beach REACT-R controller ergonomically correct with textured grips, handles, and triggers, but it has some quick action buttons on the back. Oh, there are also some double rumble motors in the handles.
I think that I talked in the video about a program that you have to download in order to use the REACT-R, but I don't think that program is up to date for this controller.
Well, I am looking forward to playing more on this REACT-R Controller Game Enhancing Audio Controls, and you can get it on the Turtle Beach site for $39.99.