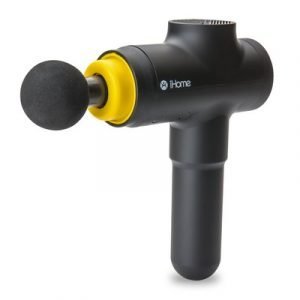 So, this isn't the first time I have reviewed an iHome product before, and for some reason, it is usually a speaker like the Timeboost and Zenergy Sunrise. I have also reviewed a Massager nearly a year ago with the SKG.
The PowerGlide is a Deep Percussion Massager, and it is a very quiet one at that. For those that get slight back pains, this will help as it deliver some hard-pumping action (don't you dare think any innuendo when you read that sentence) in five speeds. I'm told that it can deliver up to 2600 strokes per minute, but honestly, I'm not certain what that means.
It comes with 6 hours of continuous power thanks to its charging cord made to be plugged into the wall. The cord is not very long, and I am thinking this is made for portability. The cool thing is that you can use the four massage heads like the ball, the U-shape, a flat shape, and the trigger (a bullet shape).
You can see me use it in the video, and you can se that the only difficulty that I had was just turning it on. Also, I joke that the PowerGlide could be used as a pleasure device, but hey, I'm not going to judge!
Anyway, you can pick up the iHome PowerGlide Deep Tissue Percussion Massager for about $79.99, and get more information on the iHome site.