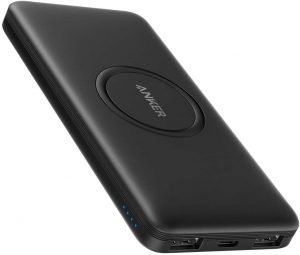 Well, we have reviewed enough Anker products to know that they are in high quality, and we have also reviewed enough mobile batteries to know what's up. So what makes the Anker PowerCore 10K Wireless stand out?
Well, the obvious thing is that it is wireless. It means that you can put a Qi enabled device on it, and not worry about it charging. Trust me, it is, and is capable of up to 5W.
Oh, did I mention that it also has two 12W USB ports? Well it does. Do you realize what this means? It is capable of charging three devices at once. This must be a theme for charging devices, as this is the third I have reviewed, with the others being from Eggtronic and Vissles.
As for the battery itself, it charges via USB-A to USB-C, a cable that is included. Now, here is the thing. I could not find this product on the Anker site, but I was able to find it on Amazon for a price of $35.99.