Introduction (Does It Do What It Should)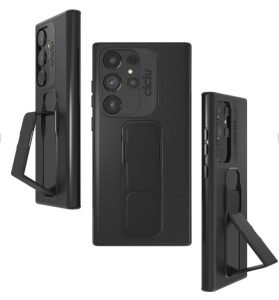 I've had a fun time reviewing CLCKR products, and that is not an acronym, but a company that does CLCKR products. We have reviewed CLCKR products before, and they have a certain feature that I have always talked about at length.
The CLCKR has a built-in stand that you can extend out and use the CLCKR as a stand. Oh, and it sticks out a little bit so you can stick your fingers through it. So you have a one-hand holder and something that holds up your phone. The stand holds up in portrait and landscape mode.
The Samsung Galaxy S23 Ultra Stand + Grip Case can protect against 3.6 meters (12 feet), and it is made of fifty percent recycled material. That is, the case is, the grip strap is made of vegan leather. I also might want to mention how thin the material is.
Facts About The Company
Like I said before, CLCKR really makes a lot of great stuff. It is always cases that have this extension that I've talked about before in this review, and others before it. This extension can be used as a grip or a stand.
What Does This Company Make?
You will notice that this is a product for the Samsung Galaxy S23 Ultra, but if that isn't your phone, you can head to the CLCKR site and find whatever model of smartphone that you have. You can also just purchase that strap/stand and stick it on the back of your mobile device.
Here's our last few reviews:
Our Review of the CLCKR Stand and Grip with the Stand and Grip for MagSafe
Our Review of the CLCKR Stand and Grip Wallet with MagSafe Stand and Grip
Our Review of the CLCKR Stand and Grip Wallet with MagSafe Stand and Grip
Clckr Clear Stand and Grip Case for the iPhone 12
Just the Specs, Man
If you're the type that needs this info, this section is for you!
I couldn't really find anything on the specs, but it is made of recycled materials, and good for drops of 12 feet (3.6 meters).
If there is something on this that I didn't cover, please let me know.
What Do the Reviews Say?
Well, there's two reviews on Amazon for 2.4 stars. That seems very low to me.
Then I read one that said "prevents wireless charging". If that is true, that seems to be quite a big blow to the product. I don't depend on wireless charging, but I can see why you want to have that option. I wonder if all CLCKR products are like that, and I don't see how they could not be with that feature that I keep raving about.
Okay, Get To The Unboxing Already!
Okay, I Like It, Just Give Me The Link So I Can Buy It Already!
Maybe I Want It, But Is There Anything Else Like It? Maybe For A Lower Price? Please?
I reviewed one from Aspect that had a similar feature, but with a ring and not an extendable strap. There was also that Vena case that I reviewed. It is weird that I got both of those cases at CES 2023.