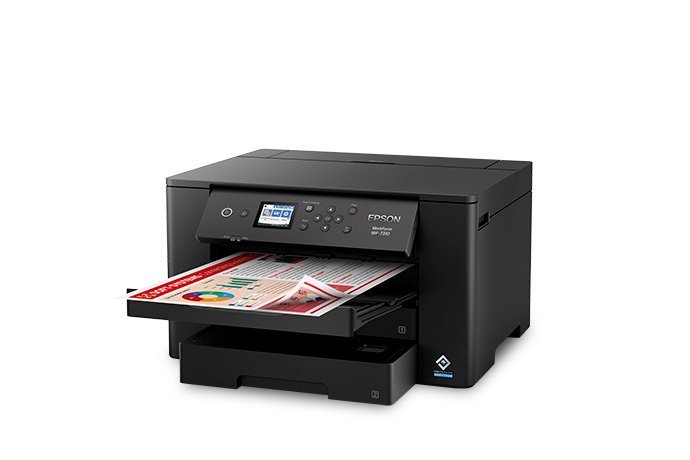 We had the chance to review a lot of great products from Epson, and this is actually our third printer. The first being the Epson EcoTank ET-2760 All-in-One Supertank Printer, and the second being the Epson WorkForce Pro WF-3820 All-in-One Printer. I would have to say that the Epson Workforce Pro WF-7310 is the most advanced that I have seen.
The thing that sets it apart from the other printers I have reviewed from Epson is its speed, and once I hooked the Epson WorkForce Pro WF-7310 up to my computer (wirelessly), I could not believe how quickly the page came it. Heck, it practically spit it out.
The Epson WorkForce Pro WF-7310 is also quite versatile as it can hold 500 sheets with two 250-sheet trays. It can also print on paper that is 13 x 19 inches, which I don't think I have ever reviewed before.
You might notice on the video below how big this guy is, but I will be keeping it around to help my business. Now, I've using it for a few days, and I have to admit that I haven't had some of the problems that I've had with other Epson printers.
Yes, I have had problems with Epson printers, but I might have been that problem. You see, I would often try to do print jobs, but get a warning from my computer that my printer is offline. Worse yet, there's no "turn the printer online button". Like I said, I might be the cause of this online problem because every day I would shut off my power strip, which included powering down my printer.
I've decided to keep the Epson WorkForce WF-7310 on at all times. Before, if the printer was online, and I needed something printed, I would save it to a thumb drive and insert it in to print in out. I also used the app for a workaround, and I'm told that Epson's latest app can do just about anything.
You want the Epson Workforce WF-7310, head on over to the Epson site and pay $199.99 for it.