In these days of virtual meetings, Tik Tok, and other social media, everyone wants to look their best. The product we're about to review is a very useful tool that will help you be a star and shine bright. We've shown some other TONOR products to enhance your studio like this microphone, but they also make a ring light.
The TONOR Selfie Ring Light sits on an adjustable tripod stand, and lights your face up, so you aren't looking like a silhouette during your videos. During this pandemic, I've had the opportunity to be in the virtual audience of a couple of TV shows. The first time I did an episode of the View, I thought my lighting looked pretty good when I saw myself on the computer screen. Turns out that wasn't really the case. My lighting looked off when I saw myself on the TV screen.
I got another chance to be on The View today, and we had just happened to receive the ring light recently. I figured that this would be a really good way to correct that dark face I showed the last time. It turns out that the selfie ring was just the thing I needed.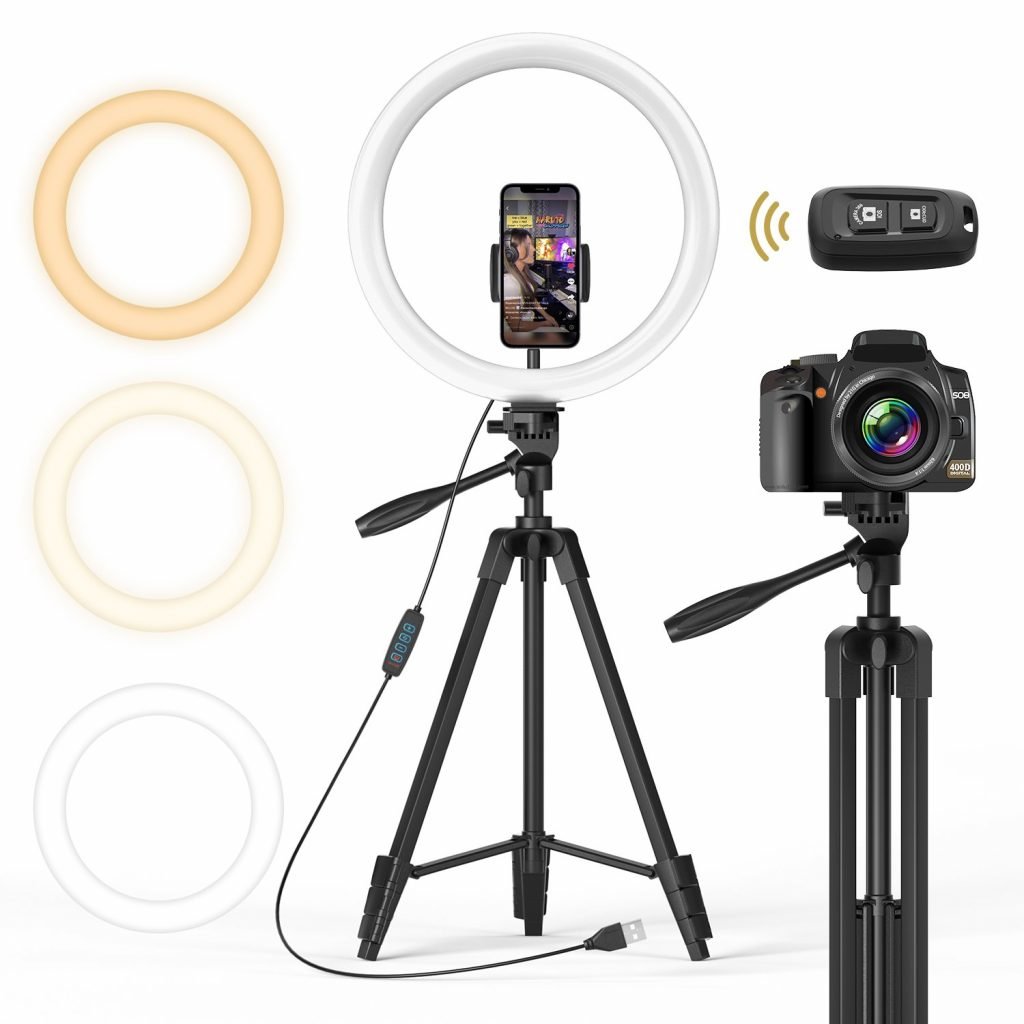 Set-up was very easy out of the box. It comes with a tripod that can not only be used to hold the ring light, but also a camera. The stand has four legs that expand to make the height from 16″ to 52″.  It has a triangular structure and anti-slip rubber feet for stability. The base of the light can be adjusted freely for the perfect angle. It took a second to figure out how to adjust, but if the instructions in the box are followed, you can do it. I figured it out without instructions, so that is doable, too. Also included is a Bluetooth remote you can connect to your cellphone to help take pictures. The power and light adjustment is located on the control on the USB cord. Yes, there is a USB cord, so you'll have to have a way to plug it in.
The TONOR Selfie Ring Light comes in 3 color modes- cold, warm and natural. There are 10 brightness levels.  The color temperature ranges from 2700K-6500K. The light is said to last for 20,000 hours. That's a good amount of time. I believe that's longer than most other ring lights out there- ones that may be cheaper, but don't last as long.
Yes, this product costs about $50 on Amazon, but with the quality of the materials you get, we believe that it's worth the extra money. Anyone who is a photographer, a vlogger, Tik Tok creator, or those who want to make themselves beautiful on their next Zoom meeting. You can purchase the TRL-20 on the TONOR site for $49.99.
Thanks to Tonor for sending us this product to review. We are not sponsored by Tonor, and we have not been paid for our fair and unbiased analysis.