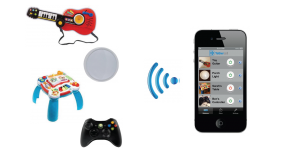 We really live in a battery-powered age, as our mobile device, laptops, and our computers all run on some kind of battery. In addition to all of our mobile lives, most of our electronic toys and other devices are run on battery power.
The problem with these old-school batteries like AAs and so forth is that they don't have the indicators like on our mobile devices. Imagine if you could monitor your AA batteries from a mobile device, and this is exactly what Tethercell is made to do.
Tethercell is very easy to install. All you need to do is remove a single AA battery from your device, and then insert the Tethercell, which requires a AAA battery. One of these Tethercells is all that you need to monitor to wirelessly monitor your battery powered device via Bluetooth.
Personally, I think this is a great idea, but this is an Indiegogo project, which means it needs your funding. In this case, it looks like it actually achieved its goals. Check out the site here.