Introduction (Does It Do What It Should)
So, it is time to review Catalyst products, and yes, I know that these are not new, but are from the now older (last year) version of the iPhone. Still, we got them, and we will review it.
Our Review of the Catalyst Total Protection for iPhone 14
So, I should start with the Total Protection, and why is it called that? Because it gives protection from water, dust, and dirt.
Oh yes, this thing can protect against water, and I show in the video how to open it, which can be a little bit difficult. Granted, you might pry it out with a little bit of difficulty and seal it up as such. However, you want to seal your phone up water-tight, don't you?
I am told that the Total Protection iPhone 14 case is 5 x more waterproof than the leading competition. So who is that, Lifeproof? There is a 10 meter (33 feet) immersion, which I didn't test. Anyway, it has 65 percent high drop protection at 2 meters (6.6 feet).
Our Review of the Catalyst Influence Case for iPhone 14 Pro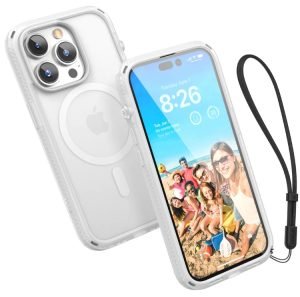 Okay, the Influence Case for the iPhone 14 Pro, and it is MagSafe compatible. It isn't trying to be the Total Protection place, as it only covers the back of the iPhone 14 Pro.
So, it is 2.5 times higher drop proof, that is 3 meters (10 feet). I am told that it has +30 percent louder sound, and it has 30 percent louder sound.
I forgot to mention that this comes with a lanyard, and the Total Protection Case comes with a lanyard as well. Yeah, I mention later what Catalyst is made for, so it sounds great that Catalyst makes products that won't slip from your hand.
Our Review of the Catalyst Essential Case for Airpods Pro (2nd Gen)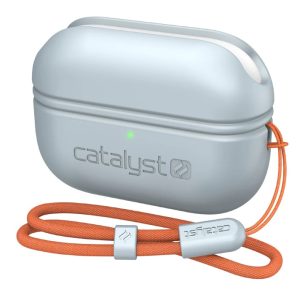 I might as well talk about the Essential Case for Airpods Pro (2nd Gen), which I also had a chance to review. This particular case is Drop Proof at 1.2 m (4 feet), as it is made from premium materials.
The case is compatible with wireless/Qi-certified charging mats, and the material is very easy to clean and disinfect. I should also take the time to discuss how there is a secure lid design, and a very cool lanyard loop.
Facts About The Company
According to the "About Us" on the Catalyst website, it says: "We design and manufacture iconic products for people, businesses and organizations that can help them protect their personal devices, company assets and health".
I feel like Catalyst is made for the same audience as GoPro, because these cases and accessories are made for those people who want to go on some serious adventures. They are a definitely recognized brand with award winning innovation sine 2010.
What Does This Company Make?
They are most well-known for their cases, which provide protection for phones, and I believe that they only do iPhones, at least for now. They do some accessories as well, as they protect iPads, Airpods, Apple Watches, and AirTags. As for other non-Apple products, they protect Samsung and Google earbuds.
Just the Specs, Man
If you're the type that needs this info, this section is for you!
I didn't really don't have any specs to copy and paste here, so I'm just going to leave it.
If there is something on this that I didn't cover, please let me know.
What Do the Reviews Say?
There's a review on Amazon for 3.9 stars out of 110 ratings. It's enough to show that it is good, right? The Influence Case has a 4.1 star rating out of 32 ratings, so a little better. The Catalyst Essential Case for AirPods Pro (2nd Gen) is rated at 4.4 out of 101 ratings.
Okay, Get To The Unboxing Already!
Okay, I Like It, Just Give Me The Link So I Can Buy It Already!
Maybe I Want It, But Is There Anything Else Like It? Maybe For A Lower Price? Please?
I'm going to just put all of the times that I talked about Catalyst products. This is our last review of the Influence cases, not to mention the Crux Series. Then we reviewed a lot of products for the iPhone 13 by Catalyst. Oh yes, we reviewed the AirTag products.