Introduction (Does It Do What It Should)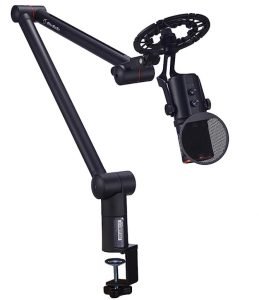 So this is a review of three different items, all from AVerMedia. This is the first time that I have reviewed items from this company, but I really hope that it won't be my last.
I really had a lot of fun making the video, as it was pretty easy to unbox and set them up. I figured that is what you, the reader/viewer needed to know, but I also know that you wanted to see a demonstration, and I have that too.
Just to let you know, the picture that I have is not quite accurate. You can see a disk in front of the microphone which I believe is the "pop filter", which I could have used at the end of my video when I started streaming. So yes, you won't see that pop filter in my video, but beyond that, all three of these are great products on their own.
The AVerMedia LiveStreamer Arm is the big metallic arm that you are seeing there, and it has that cool clamp on the bottom to attach to a table. In my video, I talked about how my table had a lip that would allow it to properly clamp, but the other table that I used was just fine.
I also might have mentioned in the video how the arm had a tendency to droop with both the mic and shock mount on it, but it was because I had it angled incorrectly, but it was a simple fix, and you can see the demonstration of the microphone in front of me. It holds the microphone very well, and there was a lot of variety of adjustment.
You can also see in the video how the AVerMedia LiveStreamer Arm can hold a webcam, and all you have to do is screw it in. All I did was just move things around, and created quite something that was dizzying, but it sure kept it still when it needed to at the end.
So, that was the AVerMedia LiveStreamer Arm, so how was the LiveStreamer Mic 350? Well, you can see the in the video, or more accurately, hear in the video how good it is. Now, I'm going to say that I'm not quite certain if the mic in the picture is the one that I have, but it looks like it. I can't really find the LiveStreamer Mic 350 on the AverMedia site, or on Amazon. The link you see below is to the bundle.
You can also not hear the mic in one clip, and this was because I was playing with the buttons, and I inserted a pair of earbuds. Funny story, but I did a test of the LiveStreamer Mic 350, and thought the video was fine, and then I did not do more tests, but filmed a few more clips. Turns out that all the other clips were muted, but it was pretty good by the time I got to my Twitch streaming.
As for the Shock Mount, I probably could have run some tests on that. You know, ones where I have it with the shock mount on, and tests where I don't have it on. You'll notice that I couldn't find a price on it.
So the price that you see on the video is a bundle deal, but if you are wanting to start as an influencer, I'm going to recommend this bundle. You can see how easy it is to set-up, and the sound is quite good. The arm makes it pretty convenient as well.
Facts About The Company
This company was started in the early 1990's, and is based out of Taiwan. AverMedia is really into continuous research and the development of digital imaging technologies and concurrent applications. As I said in my video, I liked the name of the company, which I think is pronounced AV-er Media, like it is an AV-er (Audio/Visual guys). Come on, everyone loves AV people!
I'm not really certain what this means, but they want high-quality audio and video peripherals, along with high definition video and real-time audio-visual products. They have some pretty cool values and vision that I like, and I feel like this company could make a name for itself for products for influencers, a profession that is growing steadily every day.
What Does This Company Make?
I've already talked about the microphone and the influencer arm, but I've seen some other products that they make, such as capture products for video. There's also webcams and speakerphones, and something called Creator Central. I think that I am going to have to review some more of their products before the holidays.
Just the Specs, Man
If you're the type that needs this info, this section is for you!
Brand AVerMedia
Connectivity Technology USB
Connector Type USB
Special Feature Clip, USB, Gaming
Included Components Microphone
Polar Pattern Unidirectional
Power Source Corded Electric
Hardware Platform Laptop, PC
Frequency Response 15 kHz
If there is something on this that I didn't cover, please let me know.
What Do the Reviews Say?
I'm seeing about 6 reviews of the microphone that are at 5 stars, so you know that is good. As for the Livestreamer Arm, it has 35 reviews at four stars. I'm certainly loving this thing, and I could use it for my own reviews.
Okay, Get To The Unboxing Already!
Okay, I Like It, Just Give Me The Link So I Can Buy It Already!
Maybe I Want It, But Is There Anything Else Like It? Maybe For A Lower Price? Please?
Sure, I have reviewed plenty of microphones, but I don't seem to remember reviewing any kit like this. That is, I don't remember reviewing anything but the TONOR Q9 USB Microphone Kit. Yeah, it is something, and it is slightly cheaper.
Granted, that is for some kind of arm/microphone combo. As for the microphones, I've reviewed a lot like them. There was the Neat Bumblebee II, which is made to set up on the table. There was the Matterhorn microphone from Cyber Acoustics as well. Oh, I forgot about the Turtle Beach Neat Skyline USB Microphone.