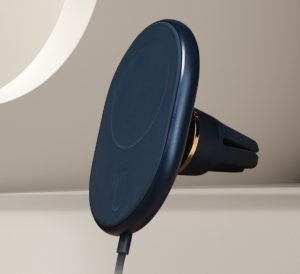 It hasn't been long since we reviewed an awesome iOttie product, and we were glad to review this particular one with the Magnetic Wireless Charging Air Vent Mount, with Velox.
So what is Velox? Well, I am actually not certain. Seriously, I Googled it and got several very different results. I am assuming that it has to do with the magnetic charging. So yes, if your mobile phone is Qi enabled, you can just stick it on there and get a charge while you are driving.
The set-up is very simple, as you stick it on your airvent with the weird clamps that remind me of the Fidget Moire. It then has this USB C cable that you connect to the included USB C Car Charger.
If you have something set up for MagSafe like the latest iPhones, it should work for you very well. I had mixed results when I tried it with my phone, the Galaxy Note 20 Ultra.
I was able to find this product on the iOttie site for a price of about $54.95.