Introduction (Does It Do What It Should)
While I was at CES 2023 last January, I made a great connection with UGREEN, and I feel very privileged to try out their products. I was hoping to review one of their generators, but I was pleased to review the Nexode 100W USB-C GaN Charger (4 Ports) and the 100W DigiNest Pro USB-C GaN Charging Station (7 Ports).
Our Review of the UGREEN Nexode 100W USB-C GaN Charger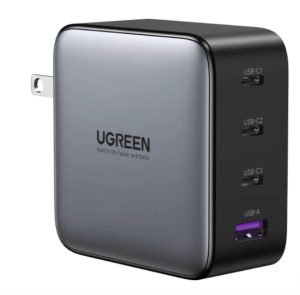 So, I was very pleased to try out this particular UGREEN product of the Nexode 100W Charger, as who couldn't use a charger with 3 USB-C ports and a USB-A port just as a kicker? Oh yeah, this 4-in-1 multiport charger has 100W power for a max fast charge.
You can see in the video that the Nexode 100W Charger has one of those flip-up prongs, so you can definitely store the Nexode 100W Charger in your pocket. Oh, and it has a GaN chip, you know, like the Gallium nitride material that I always have to remind myself exists.
It would appear that the Nexode 100W Charger is made for the MacBook family, and you can get 30 minutes power up to 55 percent for the MacBook Pro 14″ version. I've also been told that it has Thermal Guard Tech with 800 + Temperature readings a second, which has a great power dispenser system to adjust the power output, thus protecting the battery life.
I think I mentioned in the video how the top two ports are different, and they have the 100W Max. The bottom two (which has the USB-A port) are good for a 22.5W Max. I don't really know what stats to believe, as there is another diagram on the website that specifies a 45W Max on the first port, a 30W Max on the second, and then 10.5W Max for the last two. I'm not sure about this stuff, so I'm just going to recommend you to head to the UGREEN site.
Still, imagine charging a Game Console like a Switch, then your iPhone, then your Airpods, then your Apple Watch. The possibilities are, of course, endless.
Our Review of the 100W DigiNest Pro USB-C GaN Charging Station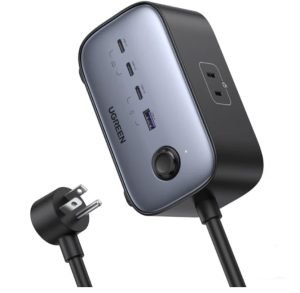 When I did the video of the 100W DigiNest Pro, I couldn't help but compare it to a power strip. I mean, it has at least 3 AC outlets, and I will have to admit that most power strips have six AC outlets, but because of how big certain cords are, you only use 3 anyway.
Oh, there is also a kill switch, and this one is circular. I should also talk about how it has three USB-C ports, and a USB-A. Sure, that sounds familiar with that Nexode that I just reviewed above, but this has three outlets, with one two-prong and dual three-prong plugs.
So that is a 7-in-1 charging station, with 100W of charging power, and it also has GaN II technology. Yes, I talked about GaN, and did you know that GaN saves 5,503 tons of CO2, which plants 220,755 trees per year.
Remember when I talked about Nexode and its wacky stats about Max W? Well, this also has some wacky stats, and I just recommend going to the UGREEN site to see more.
Facts About The Company
Like I said in my video, this is my first time reviewing a UGREEN product, but I did encounter them at CES 2023 last January. I could see that this was a company that was dedicated to sustainability, which was a big buzzword at the big tech convention this year.
It's pretty clear with their products that they value humanity and social responsibility. Not only that, they like the products that promote that. They seem to have hundreds of millions of users, which makes me wonder what I am not seeing with this company.
What Does This Company Make?
Like I said, hundreds of millions of users can't be wrong, so it is pretty amazing that they have a wide diversity of chargers, hubs/adapters, power stations, docking stations, cables, stands/protectors, and car chargers. So yeah, this company is very busy with what it is they do.
Just the Specs, Man
If you're the type that needs this info, this section is for you!
Specs of the UGREEN Nexode 100W USB-C GaN Charger
SKU 40737
Input 100-240V~50/60Hz 2.3A Max
Single-Port USB-C1/C2:5V/3A 9V/3A 12V/3A 15V/3A 20V/5A 100W MaxUSB-C3: 5V/3A 9V/2.5A 12V/1.88A 22.5W MaxUSB-A: 4.5V/5A 5V/4.5A 5V/3A 9V/2A 12V/1.5A 22.5W Max
Total Output 100W Max
Static power ≤0.3W
Protocol USB C Port:PD3.0(PD2.0) /QC4+(QC4.0\QC3.0\QC2.0)/PPS /AFC/APPLE 5V2.4A/BC1.2USB A Port:SCP/QC3.0/AFC/FCP/APPLE 5V2.4A/BC1.2
Protection Input overvoltage protection; output overcurrent/overvoltage/short circuit protection
Working Temperature 0~35℃
Storage Temperature -20~80℃
Shell material/fire rating PC/UL94-V0
Product Dimensions 2.7 x 1.3 x 2.7 inches
Item Weight 8.3 ounces
Specs of the 100W DigiNest Pro USB-C GaN Charging Station
SKU 40896
Product Dimensions 5 x 3 x 2 inches
Item Weight 1.31 pounds
Compatible Devices Tablets, Television, Laptops, Lamp, IPhone Compatible Phone Models Compatible with Smartphone, Tablet, and Laptop, such as MacBook Pro 13"/ MacBook Pro 15"/ MacBook Pro 16″/ MacBook Air 13"/ MacBook 12"; iPhone 14/iPhone 14 Plus/iPhone 14 Pro/iPhone 14 Pro Max/iPhone 13/ 13 Mini/ 13 Pro/ 13 Pro Max, iPhone 12/ 12 Mini/ 12 Pro/ 12 Pro Max/ XS/ XS Max/ XR/ X/ 11/ 11 Pro/ 11 Pro Max/ iPhone SE 2020/ 8 Plus/ 8; Samsung Galaxy S21+/ S21/ S21 Ultra/ S21 FE/ S20+/ S20/ S10/ S10e/ S10+/ S9/ S9+/ S8/ S8+/ Note 20/ Note 9/ Note 8/ Z Flip/ Z Fold; Dell XPS 15/ 13; Google Pixel 5/ Pixel 4a/ 4 XL/ 4/ Pixel 3a/ 3a XL/ 3 XL/ 2 XL /2; iPad Pro 12.9"/ iPad Pro 10.5"/ iPad Pro 11"/ iPad Mini Series/ iPad Air Series; AirPods Pro 2, Nintendo Switch; LG G7/ V30+; Nexus 5X/ 6P, Sony XZ2 Premium, Sony XZ3, and more., Compatible with Home Appliances like: TV, Desk lamp, Printer, Kettle, Hair Dryer, and more.
Power Source Corded Electric
Item Weight 21 Ounces
Material Aluminum
If there is something on this that I didn't cover, please let me know.
What Do the Reviews Say?
I found that the UGREEN Nexode 100W Charger has 24 reviews on the UGREEN site which average at 4.5 stars. The average is slightly higher on Amazon 4.6 stars at 3,490 reviews total.
As for the 100W DigiNest Pro, it has 4.5 stars out of 5 on the UGREEN site, and that matches the 308 ratings on Amazon.
Okay, Get To The Unboxing Already!
Okay, I Like It, Just Give Me The Link So I Can Buy It Already!
Maybe I Want It, But Is There Anything Else Like It? Maybe For A Lower Price? Please?
We recently did a review of a charge made by J5Create, which has the identical amount of ports. We also reviewed a charger from Scosche with half the amount of price, and I believe it is half the amount of ports. About two years ago, we reviewed this Kovol Charging Mate, and my experience with them is pretty positive.
As for the 100W DigiNest Pro, I found a few products from RapidX to be somewhat equivalent. I also found this Limitless Innovations ChargeHub that I still use by my television.