Introduction (Does It Do What It Should)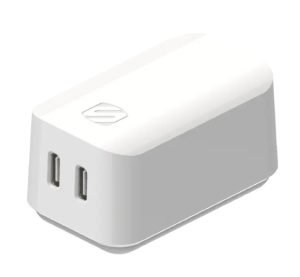 So, this is another Scosche product that we are reviewing, and we have reviewed their products before, and I'm guessing that we'll probably review them again. This PowerVolt PD35, a Dual-Port USB-C Power Delivery Wall Charger, really demonstrates how good the company is.
This is one of these products that I feel doesn't need a lot of introduction. I mean, we use chargers every day, sometimes we plug them into the wall, sometimes we plug them into our computer. Sometimes, we just use a mobile battery. So yes, the PowerVolt PD35 is just a wall plug-in with two USB-C ports.
So I guess if you have two devices with USB-C charging capability, this is something for you. This is a 35 Watt charger, and it uses GaN technology, which stands for Gallium Nitride technology. Apparently, this allows for a very fast charge. You can see in the short video how quickly I was able to get a few percentages of charges on a few seconds. I am told that you can charge up to compatible iPhone devices up to 50 percent in as little as 30 minutes.
I probably should have told about how the prongs are retractable, even though this isn't in the image I used in the article. You can see me flick them up and down in the video, though.
Facts About The Company
Like I said before, we have reviewed Scosche products before, and the last time was before I changed the format of my articles to include facts about the company. The company has a goal to "produce cutting edge, innovative accessories at a competitive price".
I first caught notice of them at a tech conference quite a while ago, but they actually "came to life" in 1980. They make all kinds of tech products made for consumers, and this is what I've seen so far.
What Does This Company Make?
So, this what I've seen: the Scosche Magic Mount ProCharge Dash/Vent Magnetic Wireless Charging Mount and the PowerVolt Travel 30. Then there is the Scosche Compact 10K mAh Dual-Port Power Bank, or the GoBat 10K.
Then there is the MagicMount Pro Extendo, GoBAT MS 5K, with the Thudbuds TW Earbuds. And then there was the USB-C Fast Charger PowerVolt PD20, USB-C Fast Charger PowerVolt PD60, and Magic Mount Window/Dash Mount Kit for MagSage Charger.
Oh yes, there was The Rhythm Plus 2.0 and NEXC2 DashCam and the Scosche BaseLynx, MagicGrip, and much more!
I've figured that is enough cut and pasting of old links from articles that I've written, and I'm sure I'll put those on articles about Scosche that will be done in the future.
Just the Specs, Man
If you're the type that needs this info, this section is for you!
• Input 100-240V/ AC
• Output: USB C-1/USB C-2 : 5V3A/9V3A/12V2.5A/15V2.33A/20V1.75A
PPS: 3.3V-16V 2.33A 35W max
USB C1 + USB C2: PD 20W+PD 15W
If there is something on this that I didn't cover, please let me know.
What Do the Reviews Say?
We got it on Amazon now, and it has about 4.5 stars out of 23 reviews. That certainly sounds great, right? I'm assuming that means that it works.
Okay, Get To The Unboxing Already!
Okay, I Like It, Just Give Me The Link So I Can Buy It Already!
Hey, found it at a cheaper price!
Maybe I Want It, But Is There Anything Else Like It? Maybe For A Lower Price? Please?
I think I mentioned in the video that you could probably just find a cheap charger that could do the same job, but it would be questionable job from that one questionable employee that you work with and can't really stand because you have to pick up his slackness.
For example, you want this employee to find cheaper alternatives for a charger like this, but all he does is just do a search for "charger" on TheGeekChurch.com.
Well, we did find this Kovol Charging Mate, and man, I keep forgetting how much product that review. Oh, there's this SPT iPower, and I forgot that I reviewed this. Oh, and then there's that Nomadplug.