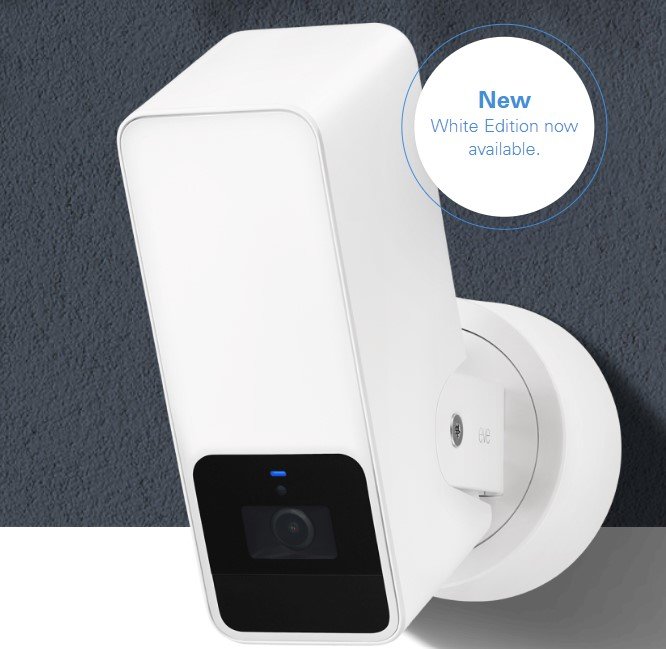 Introduction (Does It Do What It Should)
Okay, I am going to be very honest with this, I really couldn't get this to work for me. The issue is that I am an Android user, and this is definitely a product designed for Apple users. In fact, it is designed exclusively for Apple HomeKit Secure Video. I don't feel cheated by this, but when it came to mounting this thing, yeah…it is definitely designed for specific type of homes.
You can see in the picture how it is made to mount on the wall of your house, the outside. Now, most of us have outdoor light fixtures that are on the wall, and the EVE Outdoor Cam is made to mount there. The issue is that my outdoor lights are all mounted near the roof, so I could just take those off and mount the EVE Outdoor Camera there.
Yeah, that didn't work. I decided to take matters in my own hands. Since the instructions require you to use wires that are already in your house. Yes, you need to shut down the power to that area, but I'm not doing that. That's because I did it differently. You can see in the video below that I just spliced a wire with a plug and called it good.
Once you get it ready, the blue light flashes and you can pair it to your EVE app. You've got yourself a 157 degree field of view with some good night vision, and you have HomeKit Secure Video. What is very interesting is that there are people, pet, vehicle, and even package detection with a dedicated motion sensor to turn on the floodlight when activity is detected.
So, if you want to keep an eye on what is going on outside your home when you are…outside your home, it is good to have the EVE Outdoor Cam. It allows for communication over an end-to-end encrypted connection. Oh, and in case you are curious, the camera's live stream never reaches the cloud, not even the iCloud. Yeah, I'm quoting the website for that one.
You can also choose what you want to record with the EVE Outdoor Camera, and then stored on the iCloud for your recording devices. Now, I have heard that certain companies have had issues with their security cameras, but Eve doesn't seem to care about harvesting personal data.
By the way, you will get a instant notifications should there be any kind of alert that is happening. Not only that, but with the Home hub's facial recognition capabilities, you will see anyone who has been tagged in the Photos app. Best of all, you can choose how you want to be notified, so you will know when something is up. This video footage is analyzed securely in the home hub, not any cloud. Such recordings are saved for ten days and then deleted automatically, or you can just save them permanently.
I can't remember if I have even mentioned this earlier, but there is two-way communication available. So if you get someone at the door, you can tell them what for. Hey, that kind of rhymed. But you get what I'm saying.
The said part about this particular review is that I wasn't really able to complete it, for reasons that are explained in the video. Yeah, I am an Android user and couldn't really do this, but EVE is really terrific, so this should be very great.
Facts About The Company
I think it is interesting that on the EVE website, the "About Eve" section doesn't really describe the company. It has an "Eve App", then a "Say hello to Thread" and "Meet Matter". Maybe I better check out what kind of products that they represent.
What Does This Company Make?
I would have to classify their products as "for the home". I mean, they have a Wireless Contact Sensor, an Eve Energy, Eve Light Strip, this camera, and the EVE Room, which I just recently reported on.
Just the Specs, Man
If you're the type that needs this info, this section is for you!
Features
Apple HomeKit Secure Video
1080p/24fps H.264 video
157° field of view
Infrared night vision
Flood light with light boost
Infrared motion detection: 100°, up to 8 m / 26 ft. at 2.5 m / 8.2 ft. mounting height
Two-way communication with built-in microphone and speaker
IP55 certified
Three-axis camera angle adjustment
Status LED
Power
AC 100-240 V, 50/60 Hz
Wireless Connection
Wi-Fi (2.4 GHz 802.11b/g/n)
Compatibility
Eve Outdoor Cam requires both a neutral wire and a connection to a ground wire.
Dimensions
170 x 65 x 76 mm / 6.7 x 2.6 x 3 in
If there is something on this that I didn't cover, please let me know.
Okay, Get To The Unboxing Already!
What is in the box?
Eve Outdoor Cam, and it is just wired.
Mounting kit and connection terminals, and that is numerous.
Video surveillance sticker set, really?
Manual, and you will need it.
Okay, I Like It, Just Give Me The Link So I Can Buy It Already!
Maybe I Want It, But Is There Anything Else Like It? Maybe For A Lower Price? Please?
Let's see what I can find. I mean, if you want some kind of outdoor camera, you really do have many, many choices.
There's the Bosma Ex Pro Camera, and they make doorbell cams as well. I feel like you should be able to find quite a bit, honestly.
I reviewed a Eufy Smart Floodlight camera, and the two-camera Eufy kit that I still have on my front and back doors.